Talks at the Labour Relations Commission between management and unions at Dublin Bus and Bus Éireann aimed at averting industrial action this weekend have been adjourned until 10am tomorrow.
After two hours of discussions, SIPTU's Owen Reidy said both sides had agreed a process of intensive talks over the next 48 hours.
Mr Reidy said there was nothing new on the table since the last time the sides met at the LRC except time.
He said at the last meeting they had less then a day whereas now they have a couple of days to work through their issues.
The National Bus and Rail workers Union's Dermot O'Leary said the issues had become more crystalized and that all sides now understood each others position. 
Mr O'Leary said his union would work as hard and as long as it takes to resolve the dispute.
LRC Chief Executive Kieran Mulvey described todays talks as fruitful and useful.
He said he detected positivity from both sides to sit down and go through all of the issues.
Mr Mulvey said the fact that the Department of Transport and the National Transport Authority were willing to attend these talks was a positive sign.
The talks are due to resume at the LRC at 10am tomorrow and expected to run until at least Wednesday. 
Earlier, Dublin Bus management said they are hopeful of reaching agreement with unions to prevent further industrial action.
Speaking before the talks, Dublin Bus Head of Human Resources Philip Donohue said they hoped they could prevent the industrial action going ahead and resolve the outstanding issues.
Bus Éireann's Head of Human Resources Joe Kenny said management were there to engage constructively to prevent further industrial action.
The National Bus and Rail workers Unions has said it wants other parties involved in the dispute to come forward with something more positive than they have to date. 
General Secretary of the NBRU Dermot O'Leary said if the Government and the National Transport Authority "are not going to play ball then we're at nothing". 
He said there was no softening on their position but that they presumed that today's talks meant that the other side had something positive to say to the unions.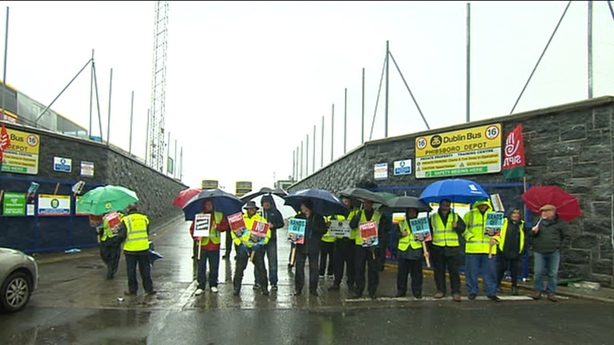 All services at the State-run bus companies were halted on 1 and 2 May.
SIPTU and the National Bus and Rail Union plan further action this Friday and Saturday, 15 and 16 May, as well as three days of action on 29, 30 and 31 May.
A previous attempt by the commission to resolve the row ten days ago failed to prevent the bank holiday stoppage, and there is no sign that positions have softened.