The National Bus and Rail Union has reiterated that political leadership is needed in order to resolve the ongoing dispute at Bus Éireann and Dublin Bus.
NBRU General Secretary Dermot O'Leary has called on the Taoiseach and Tánaiste to intervene in the row.
It comes as a second day of strike action at the bus companies draws to a close at midnight.
Dublin Bus and Bus Éireann say they remain available to re-enter negotiations.
Bus Éireann and Dublin Bus services were disrupted for a second day, in a dispute over plans to put some routes out to private tender.
The two-day strike by members of SIPTU and the National Bus and Railworkers' Union ends at midnight Saturday.
Te unions are planning five more strikes later this month.
Industrial action is taking place today Saturday 2nd May, no bus services will operate. For full details see http://t.co/bakD6z8cxA

— Dublin Bus (@dublinbusnews) May 2, 2015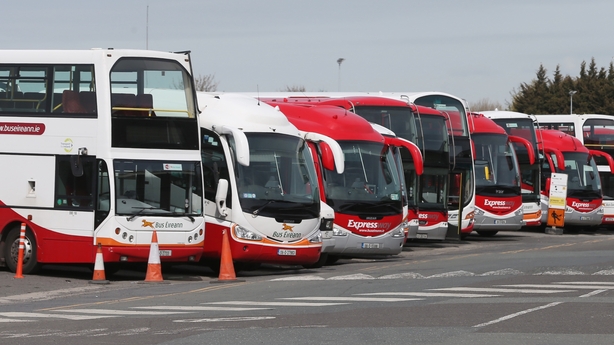 Hundreds of thousands of passengers travel plans were disrupted this bank holiday weekend.
Dublin Bus estimates the two strike days cost around €1.2m in lost revenue, which does not include a fine from the National Transport Authority of €300,000.
Bus Éireann says the strike will cost the company €1.5m in revenue and affect an estimated 250,000 passenger journeys.
Last night, the NBRU dismissed the threat of legal action by Bus Éireann and Dublin Bus to recover the costs of the bus strike as "clearly unnecessary and vexatious".
Retailers around the country have reported falls in sales today.
This is due to a combination of bad weather and strike action by drivers at Bus Éireann and Dublin Bus.
Retail Excellence Ireland says footfall was down by more than 30% in urban areas.
Individual retailers have reported that sales had fallen by over 50%.
Cork Chamber of Commerce CEO Conor Healy has said the combination of appalling weather and the bus strike had a huge impact on trade in the city.
He said business should be good on a bank holiday Saturday, however one retailer described foot fall this morning as "like a bad Monday morning".
Speaking on RTÉ Radio's Marian Finucane programme, a café owner in Salthill in Co Galway also said business is very quiet there.
Geraldine Lohan said businesses in the area depend on buses to bring older people out to Salthill from Galway city and other areas.
Speaking on the same programme, another contributor who runs a Spar shop on O'Connell Street in Dublin said business was "as bad as St Stephen's Day".