Rescue workers pulled out a second survivor from the rubble of a collapsed building in Nepal's capital, five days after the 7.8-magnitude earthquake.
Emergency worker Roman Schulze said it took rescuers 10 hours to pull 42-year-old Krishna Khadka to safety.
This morning rescue teams pulled a 15-year-old boy alive from beneath a collapsed guesthouse.
Officials have warned the chance of finding further survivors is bleak.
The government in Nepal has said that the official death toll from the earthquake has risen to 5,844.
Pema Lama, who is from Nepal, was found under the rubble of the Hilton guesthouse in Kathmandu.
One of Pema's rescuers from Nepal's Armed Police Force said it was the first time that his team had ever rescued a survivor "after 144 hours".
Baby boy found alive 24-hours after earthquake
Earlier today, pictures emerged of the moment a four-month-old baby boy was rescued from the rubble of a collapsed building almost 24-hours after the earthquake.
The little boy, who was pictures covered in dust, was reported to be in a stable condition after his rescue.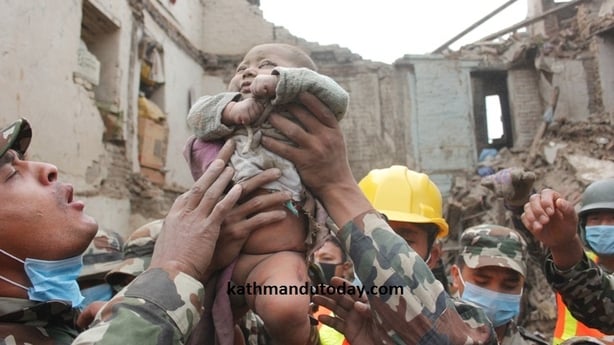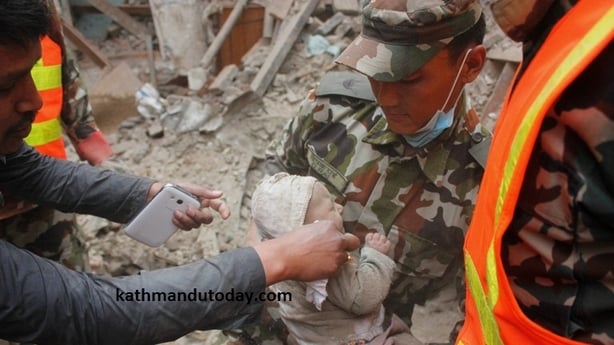 While rescue teams were out in the capital Kathmandu despite the rain, helicopters could not fly to the worst-hit areas in the countryside.
"There may not be any more survivors," said Rameshwor Dandal, chief of the disaster management centre at Nepal's home ministry.
"The rain is adding to the problems. Nature seems to be against us."
There was anger over the slow pace of the rescue with protests outside parliament.
In the country's interior, villagers blocked trucks carrying supplies, demanding the government do more to hasten the distribution of aid that has flooded into the country but has been slow to reach those in need.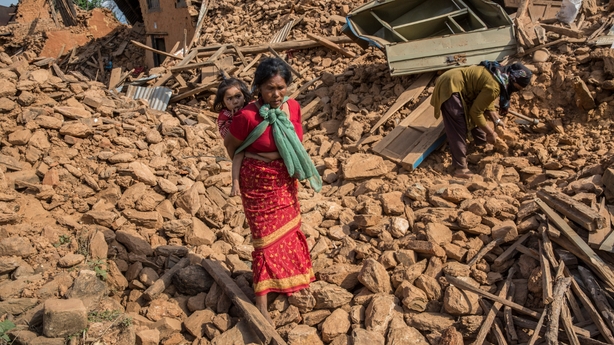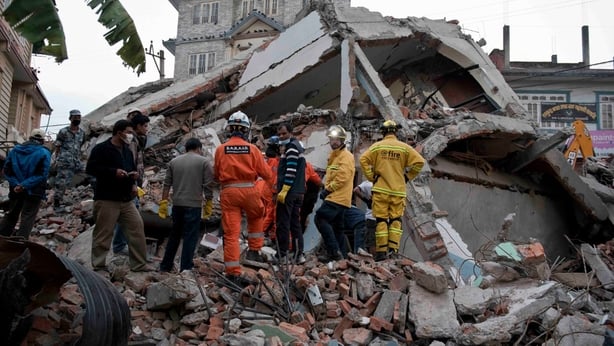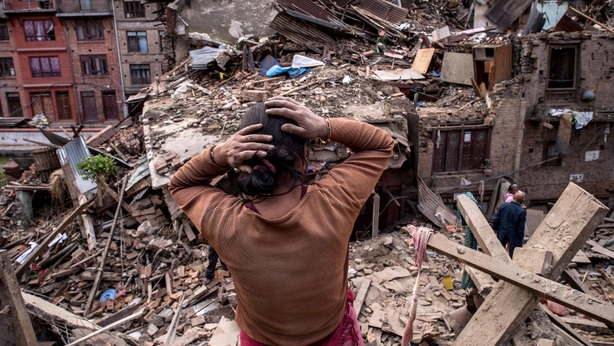 Over 11,100 were injured, and more than 80 were also killed in neighbouring India and Tibet.
Many people have been sleeping in the open after the quake - the United Nations has said 600,000 houses were destroyed or damaged.
It has said eight million people have been affected, with at least two million in need of tents, water, food and medicines over the next three months
Mr Dandal said foreign rescue teams had told him that their work is almost done because there is little chance of finding any survivors.
Around 1.7m children are now in urgent need of aid in areas worst-hit by #NepalEarthquake http://t.co/fHw3l3mLe2 pic.twitter.com/UmuJSbjAi6

— UNICEF (@UNICEF) April 29, 2015
Nepal is appealing to foreign governments for more helicopters.
There are currently about 20 Nepali army, private and Indian army helicopters involved in rescue operations, according to a home ministry official.
Meanwhile, climbing will resume on Mount Everest by next week despite an earthquake-triggered avalanche that left 18 people dead on the world's highest peak, a Nepalese government official said.
Saturday's avalanche that ripped through base camp also destroyed ladders through the treacherous Khumbu icefall higher up the mountain, raising doubts about the future of this year's climbing season.
But tourism department chief Tulsi Gautam advised climbers against abandoning their expeditions, saying repairs were under way.
Around 800 climbers were on the mountain when the avalanche struck base camp.
Emergency teams using helicopters evacuated the most seriously injured from base camp, while scores trapped higher up Everest were also rescued.