The Irish ambassador to India and Nepal has said that authorities have been able to account for all but four of the 150 Irish people who were believed to be in Nepal at the time of the earthquake.
Speaking on RTÉ's News at One, Feilim McLaughlin said he was hopeful they would be able to account for the outstanding individuals in the next day or so. 
He said that there are cases where people are travelling and communications "is rather patchy at the best of times so it's entirely possible that some of those people just haven't had an opportunity yet to make contact with their families".
He said he was only aware of one individual who was seriously injured and he was being airlifted to Azerbaijan, where he will receive medical treatment.
He said a number of individuals had decided to stay and assist in the relief efforts, but others had already returned home.
Mr McLaughlin said conditions at the airport in Kathmandu were still quite difficult so they were advising people to only go to the airport directly in advance of the flight.
He also said they had advised some individuals located elsewhere in Nepal to remain where they were for the moment.
He said they had found that email was currently the best method of contacting people. 
Minister for Foreign Affairs Charlie Flanagan said his department's Consular Response Team will continue to work with the embassy in New Dehli.
Mr Flanagan also said that there are no suggestions of any Irish fatalities at this stage.
Nepal says no more foreign teams needed
Meanwhile, Nepal has told foreign search and rescue teams not to come because there are already enough in the earthquake-hit country, a senior UN official said.
Resident coordinator for Nepal Jamie McGoldrick said the government had decided it had enough foreign experts in and around the capital Kathmandu.
"They feel they have enough capacity to deal with the immediate needs in search and rescue," he told AFP.
"Those that are already en route can come but the others are being told not to."
Kathmandu's tiny single-runway airport has struggled to accommodate the huge rush of flights bringing in aid and foreign experts.
A French military plane carrying relief supplies and medical charity workers was stuck in Abu Dhabi because it could not get permission to land in Kathmandu, according to a French foreign ministry source.
Mr McGoldrick said most of the foreign search and rescue teams in the country were still in the capital.
"There is a window of seven to nine days, tops, to rescue people. We are now on day four," he said, adding that by Saturday operations would likely move on to the next stage.
A survivor rescued after being trapped in rubble for more than 80 hours is being treated in hospital.
Doctors said the 28-year-old man had his leg amputated, but is expected to recover.
He was found by a Nepali-French search and rescue team in the remains of a collapsed apartment building.
He had been on the second floor of the seven-storey building when the quake struck. The top floors were intact and the teams drilled down to him after he shouted for help.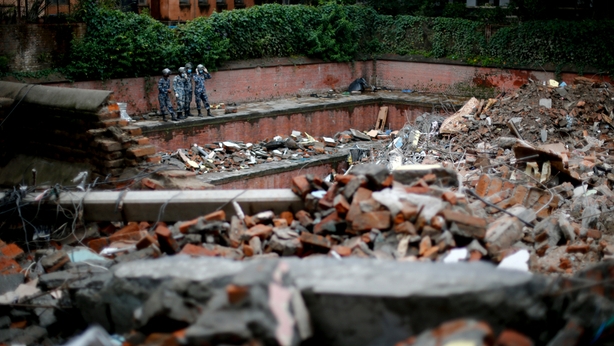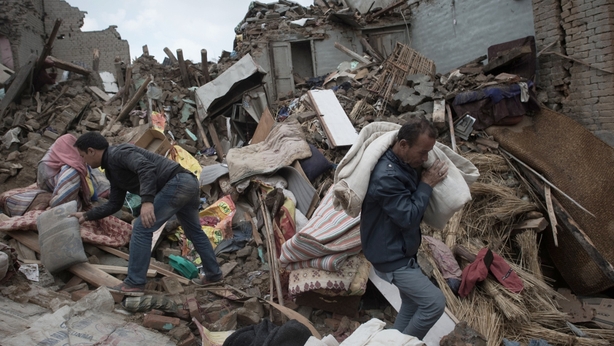 Nepali villagers blocked trucks carrying supplies for earthquake victims, demanding the government do more to help.
Around 200 people protested outside parliament in Kathmandu, asking for more buses to go to their homes in remote parts of the Himalayan nation and to hasten the distribution of aid that has flooded into the country but been slow to reach those in need.
In Sangachowk village, one of the worst-hit districts and about three hours by road from the capital, scores of angry villagers blocked the road with tires.
They stopped two trucks headed for the district capital with rice, noodles and biscuits. Later they blocked a convoy of three army trucks with relief supplies, leading to a tense standoff with armed soldiers.
"We have been given no food by the government," said 34-year-old Udhav Giri. "Trucks carrying rice go past and don't stop. The district headquarters is getting all the food."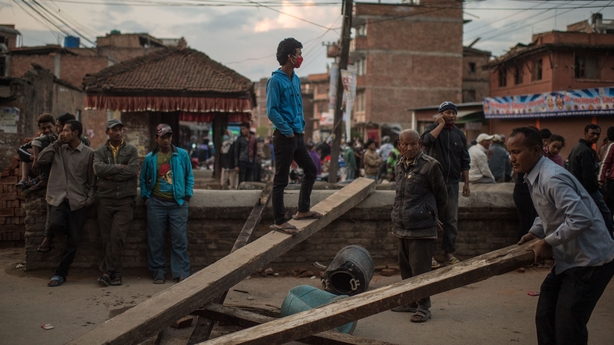 Nepalese riot police struggled to hold back thousands of residents trying to leave Kathmandu this morning as anger mounted at the lack of buses being laid on by the authorities.
Riot police were deployed to the main bus station, near parliament, after large crowds gathered from before dawn following an announcement that extra services would be organised.
Although aftershocks have begun to subside, hundreds of thousands of people are still sleeping outside in the streets as their homes had either been wrecked or else feared to be on the verge of collapse.
Meanwhile, UN aid chief Valerie Amos is travelling to Nepal tomorrow for a first-hand look at relief efforts following the earthquake that killed more than 5,000 people.
Ms Amos will spend three days in Nepal to "show solidarity with the Nepalese people, raise the visibility of the crisis and assess the response operations," a UN spokesman said.
Hundreds of people remain unaccounted for in the wake of the 7.8-magnitude quake that hit on Saturday, with many feared trapped in collapsed houses in Kathmandu, the spokesman said.
A UN team has been sent to Kathmandu to help co-ordinate relief efforts, he added.