People stranded in remote villages and towns across Nepal were still waiting for aid and relief to arrive today, four days after a devastating earthquake.
It destroyed buildings and roads and killed more than 5,000 people.
The government has yet to assess the full scale of the damage wrought by Saturday's 7.9 magnitude quake.
Rescue teams have been unable to reach many mountainous areas - despite aid supplies and personnel pouring in from around the world.
Prime Minister Sushil Koirala said the death toll could reach 10,000, as information of damage from far-flung villages and towns has yet to come in.
That would surpass the 8,500 who died in a 1934 earthquake, the last disaster on this scale to hit the Himalayan nation.
"The government is doing all it can for rescue and relief on a war footing," Prime Minister Koirala said. "It is a challenge and a very difficult hour for Nepal."
In Jharibar, a village in the hilly Gorkha district of Nepal close to the quake's epicentre, Sunthalia dug for hours in the rubble of her collapsed home on Saturday to recover the bodies of two of her children, a ten-year-old daughter and eight-year-old son.
Another son aged four somehow survived.
Mr Koirala did not say on what he was estimating the leap in the death toll, but the government has said it is still to establish contact with some remote regions.
The United Nations said eight million people were affected by the quake and that 1.4 million people were in need of food.
Nepal's most deadly quake in 81 years also triggered a huge avalanche on Mount Everest that killed at least 17 climbers and guides, including four foreigners, the worst single disaster on the world's highest peak.
Mr Koirala appealed for foreign supplies of tents and medicines.
A series of aftershocks, severe damage from the quake, creaking infrastructure and a lack of funds have slowed rescue efforts in the country.
The head of India's National Disaster Response Force, one of the first foreign organisations to arrive in Nepal to help in the search and rescue effort, said finding survivors and the bodies of the dead would take time.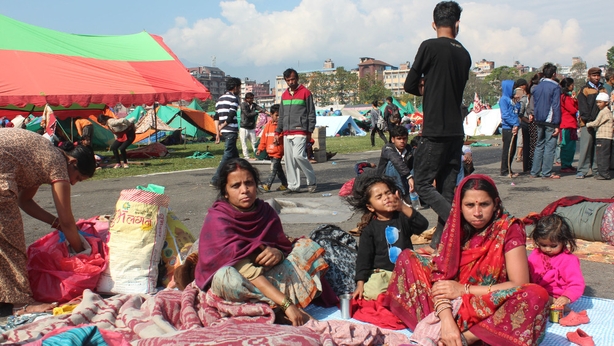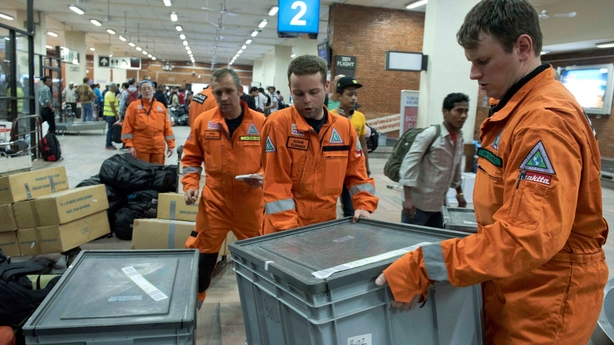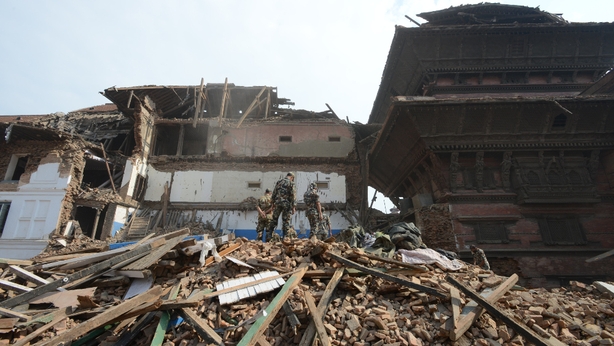 A spokesman said heavy equipment could not fit through many of the narrow streets of Kathmandu.
250 reported missing after Nepal avalanche
Up to 250 people are missing in Nepal after an avalanche hit a village in Rasuwa district, a popular trekking area to the north of the capital Kathmandu local officials said.
Foreign tourists may be among the missing in the avalanche, which hit the village of Ghodatabela.
A powerful earthquake last Saturday set off many snowslides in the country.
Poor weather is hampering rescue conditions in the area, which is popular with tourists.
Aid effort stepped up following earthquake
British and Irish medical staff, experts and volunteers have been dispatched to the worst affected areas, as part of the growing international aid effort.
The chief executive of the UK's Disasters Emergency Committee said entire villages had been wiped out and, close to the earthquake's epicentre, whole villages had been completely destroyed.
Saleh Saeed said that always after such disasters there was some degree of "chaos and confusion".
But he said aid was "getting in" by road and plane, and that over the next few days people would see an intense increased activity to make sure all those who need help are being reached.
Many people across Nepal slept in the open for a third night, their homes either flattened or threatened by tremors that spread more fear among the traumatised population.
In Kathmandu, as elsewhere, thousands are sleeping on pavements, roads and in parks, many under makeshift tents.
Hospitals are full to overflowing, while water, food and power are scarce, raising fears of waterborne diseases.
There were some signs of normality today, however, with fruit sellers setting up stalls on major roads and public buses back in operation.
The situation is worse in remote rural areas. Highways have been blocked by landslides, and many villages and communities are without water and electricity, villagers surviving on salvaged food and with no outside help.
While aid has begun arriving in the capital, including food, medical supplies, tents and dogs trained for rescue efforts, the authorities are struggling to deliver relief further afield.
No suggestion of any Irish fatalities
Minister for Foreign Affairs Charlie Flanagan has said there are no suggestions at this stage of any Irish fatalities following the earthquake in Nepal.
He said that one Irish person has been injured but is stable and will be airlifted from the area when flight clearance permits.
The cousin of an Irishman yet to make contact with his family has said that he is getting very anxious.
Speaking on RTÉ's Today with Sean O'Rourke, David Drumm said when he last spoke to his cousin Thomas Drumm on Wednesday he was "moving around the Himalayas."
David Drumm said his cousin was not active on social media and would not frequent higher-end hotels, preferring to fit in with the locals with more authentic accommodation. 
He said: "If he is among the devastation, and he is OK, there's a possibility he'd be chipping in."
Mr Flanagan said the Consular Response Team is continuing to work with the Embassy in New Delhi to trace everyone as soon as possible.
He said some Irish citizens have already left the area and others have booked flights out over the next few days.
The minister said the department's Consular Response team will remain in place for as long as necessary to assist citizens who may be affected and their families. 
Stranded Everest climbers brought to safety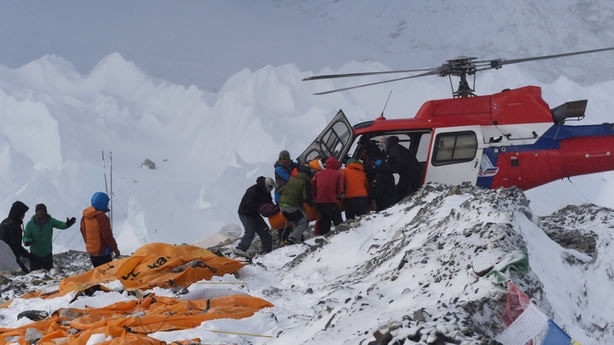 All of the climbers who had been stranded at camps high up Mount Everest by the earthquake and avalanches have been helicoptered to safety, mountaineers reported from base camp.
              
Taking advantage of clear weather, three helicopters shuttled climbers all day from camp one, above the impassable Khumbu icefalls, while others trekked back from camp two to be airlifted out.

Canadian climber Nick Cienski said many camps had been wiped out by the avalanche which, surging at speeds estimated at up to 300km/h, cut through base camp on Saturday.
              
"Many of these people have no camps, no tents, nothing left- everything is strewn all over the glacier," Mr Cienski said in a video posted on his Facebook page.
              
"The only thing they've got is what they land with in the helicopter, what's in their packs."
              
Around 350 foreign climbers, and double the number of local sherpa guides, had been on the mountain when the avalanche struck.
              
Danish climber Carsten Lillelund Pedersen said his team had been trekking on Saturday down from camp two, which is at an altitude of 6,400 metres, when it was caught in a whiteout and had to turn back. He eventually made it to camp one.
              
Three helicopters shuttled 170 climbers from camp one to base camp yesterday. Because of the high altitude and thin air, the aircraft were only able to carry two climbers at a time.
              
"Everest, above base camp, is now empty," Mr Pedersen posted on his Facebook page.
              
With much of base camp devastated and many sherpas having returned home to see if their families and houses are safe, some expeditions have been forced to cancel their attempts to scale Everest this year.
              
Some, like Mr Cienski, who plans to set a world record by scaling six 8,000-metre peaks this year, have yet to abandon their quests despite the disaster.
              
"A lot of gear, tents, oxygen, fuel etc is stashed at camp two ready to 'rebuild' later this season," said Mr Pedersen.