More than 1,300 people are believed to have been killed in Nepal when an earthquake measuring 7.9 on the Richter scale struck early today.
The quake struck Nepal and parts of northern India and was also felt in India, Malaysia and Bangladesh.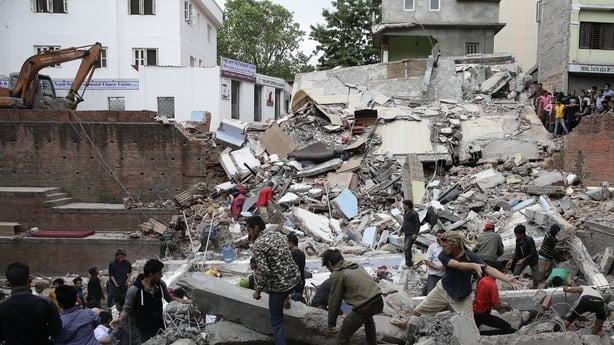 The quake struck 77km north west of Kathmandu, with reports of damage in the Nepali capital.
I took these photos an hour apart. Was wandering when quake demolished temples before my eyes. Heartbreaking. pic.twitter.com/RYtIZI4725

— Siobhan Heanue (@siobhanheanue) April 25, 2015
BREAKING: Significant damage in Kathmandu after major earthquake strikes Nepal: http://t.co/c4JUZsCOxA pic.twitter.com/euvmzSD7xx

— Corinne Cathcart (@cdcathcart) April 25, 2015
The quake caused buildings to collapse, injuring many and leaving a pall of dust over the city.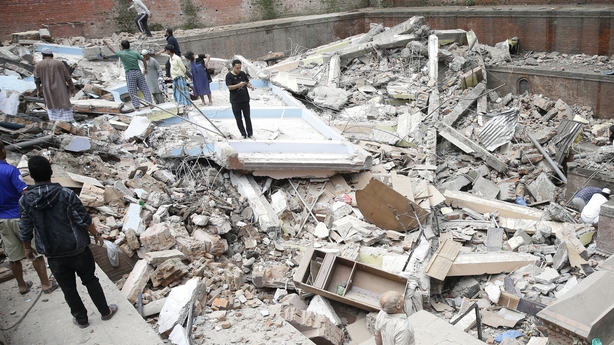 The death toll is expected to rise as Kathmandu's decrepit buildings, criss-crossed by narrow alleys, are home to large families.
A 1934 quake of magnitude 8.3 in the impoverished Himalayan nation killed over 8,500 people.
An historic tower built in the 19th century in Kathmandu collapsed, trapping at least 50 people, Nepal media reported.
The Dharara Tower, built in 1832, had been open to visitors for the last 10 years and had a viewing balcony on its eighth floor.
Elsewhere, an avalanche at Mount Everest base camp triggered by a massive earthquake killed at least 10 people.
Nepalese officials said that foreign climbers were among the dead.
Minister for Foreign Affairs and Trade Charlie Flanagan said his department is consulting with the United Nations and NGOs to see how Ireland can best assist in the region.
Elsewhere, Conor O'Loughlin of Trócaire said the death toll is expected to rise and the focus is now on getting aid to those in need.
Oxfam Ireland has launched an emergency appeal and is sending a team of technical experts with supplies of clean water, shelter, sanitation and emergency food.
Medecins sans Frontieres has said that it will be sending four teams to Nepal to assist.
Concern Worldwide has said that it will be assessing the greatest needs throughout the affected areas and will be prepared to respond as needed to critical and lifesaving interventions.
Helpline for those concerned over Irish citizens in Nepal
The Department of Foreign Affairs has put in place an emergency response team in Dublin to handle calls from people concerned for family members whom they believe may be in the affected region.  
The Embassy of Ireland in New Delhi, which is accredited to Nepal, is liaising with organisations on the ground including EU member states and other international partners in Nepal.  
Anyone concerned about friends or family in the region can contact the department on 01-4780822.