The German President has condemned the massacre of 1.5 million Armenians by Ottoman Turkish forces a century ago as "genocide", a term that the Berlin government had long rejected.
Joachim Gauck used the word in a speech to mark the 100th anniversary of what most Western scholars and two dozen governments regard as a genocide against an Armenian population that flourished in what is now modern Turkey.
Turkey vehemently denies the charge.
Mr Gauck also suggested Germany itself might bear some of the blame because of its actions during WWI.
"In this case, we Germans must still come to terms with the past, as to whether there is in fact a shared responsibility, possibly even complicity, in the genocide of the Armenians," said Mr Gauck.
He added that German armed forces were involved in planning and even implementing deportations.
Meanwhile, the Armenian Apostolic Church has canonised up to one and a half million Armenians who it says were killed by Turks in a genocide which began a century ago.
Bells rang out a hundred times to end the ceremony outside the church's fourth century cathedral in Echmiadzin in independent Armenia.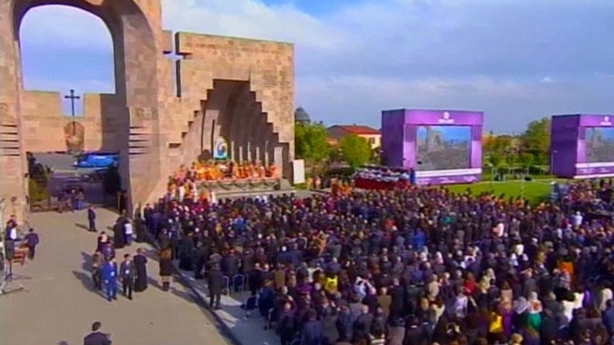 Neighbouring Turkey says many Christian Armenians were killed supporting Russian invaders of the Ottoman Empire during WWI.
But it denies the charge of genocide, a term used by the European Parliament, Pope Francis, Russia, France and some other states.
This evening's ceremony was the first time in 400 years that the Orthodox Armenian Apostolic Church had authorised any canonisations.
Tomorrow, the Armenian community in Ireland will stage a photographic exhibition in Dún Laoghaire's All Saints Church of Ireland.
At 6.30pm, there will be a requiem for the fatalities of the period 1915-1923.
This will be followed by a ceremony on the East Pier during which 100 Chinese lanterns will be released representing what the organisers call "100 years of the unrecognised genocide".
Ireland's main centenary anniversary Remembrance Service will take place in the Church of Ireland's Taney Parish church on Sunday.
Tomorrow, in the Armenian capital of Yerevan, dozens of delegations, including the presidents of France, Russia, Serbia and Cyprus, are expected to take part in events commemorating the anniversary, starting with a hilltop memorial and ending with a torch-lit march.
Turkish Prime Minister Ahmet Davutoglu has highlighted that, for the first time, the Armenian Patrirchate in Istanbul would be holding a religious ceremony tomorrow.
He said Ottoman Armenians would be remembered in Turkey, "just as they will be across the world."
In a statement released earlier this week he said that without making any distinction among those who suffered, his government "respectfully remembers all those who lost their lives in these events of a century ago".
He also said that in order to ease ongoing suffering it is important to face the past with honesty.
"But," he continued, "laying all the blame on the Turkish nation by reducing everything to one word and to compound this with hate speech is both morally and legally problematic".
Approximately 50,000 Armenians remain in Turkey, most of them in Istanbul.
Between 150 and 350 Armenians and people of Armenian descent live in Ireland.