New waiting list figures from the National Treatment Purchase Fund show there were over 405,000 people waiting to be seen at an outpatient clinic for the first time at the end of March.
The number of adults and children waiting for a day-case or inpatient treatment is also up to 66,800.
A contributory factor is emergency department overcrowding, which has led to cancelled planned operations.
The IMO has said that 1,630 acute hospital beds have been closed since 2007.
At its annual conference in Kilkenny today, it called for an end to rolling theatre closures, aimed at saving money but which drive up waiting lists for procedures.
It also said that it is not fair or right for patients to be waiting a year or more to be seen at an outpatient clinic for the first time.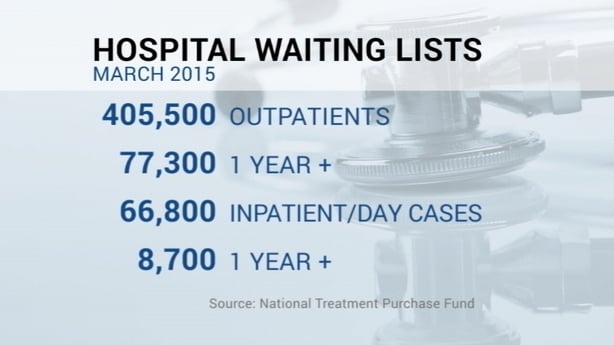 IMO President Professor Trevor Duffy said these patients have been referred by their GP and are waiting at home with an unanswered question about their health, which causes them worry.
Professor Duffy said outpatient waiting lists passing 400,000 is a concern and that a loss of doctors from Ireland was a factor.
Speaking on RTÉ's News At One, he added that the attempt to deal with the crisis in the emergency departments in recent months had made matters worse.
"What tends to get cancelled to deal with the pressures in the emergency department are patients who've had an appointment and are waiting for a procedure and they've had a procedure timetabled and then that gets cancelled on them.
"So yes when there is only so many staff around and you put them to work in one area, the other areas suffer and it's robbing Peter to pay Paul."
An IMO plan, 2020 Vision for Health, being published today calls for five years of investment in health. It also seeks measures to retain and recruit staff.
Minister for Health Leo Varadkar has said he had mandated the HSE to ensure that no one was waiting longer than 18 months by this June and to reduce the maximum waiting time to 15 months by the end of the year.
Mr Varadkar said that should be achievable with the exception of a few specialities. He will addresses the conference tomorrow.
The new waiting list target times compare with the previous more onerous targets of no adult waiting longer than eight months and no child longer than 20 weeks for inpatient or day treatment.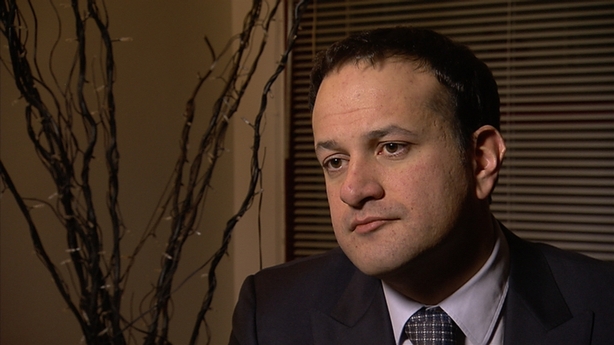 Meanwhile, Mr Varadkar has described the deal on free GP care for the under-sixes as "a significant breakthrough".
The IMO announced yesterday that it reached an agreement on a contract for the provision of free GP services to children under six.
It said the agreement includes enhanced services for children with asthma.
The Government is increasing its investment in providing GP services to children under the age of six to €67m. Doctors will be paid an annual fee of €125 per child.
Speaking on RTÉ's Morning Ireland, Mr Vardakar said: "It's the first visible step people will see on the road to universal health, and it is only a first step, we are phasing that in over the next number of years."
He said the Government would begin negotiations on the next phases and he hoped to extend the model to more children and a "whole bundle" of chronic diseases.
Mr Varadkar said it was important to point out that it was an enhanced primary care system for all children under six, which included services such as welfare checks.
The minister said the major beneficiaries would be young parents with a lot of bills and the number of "millionaires" who would benefit would be relatively small.
He said he did not know if GPs could opt-out of the under-sixes measures and opt-in to the over-70s cover.
He said to the best of his knowledge it was possible because the over-70s was an existing contract.
Mr Varadkar said GPs could not be forced to sign-up to a contract but parents would have the option of seeing their doctor as a private patient.
He said the next step he wanted to see was the inclusion of primary school and then secondary school children in the scheme, but said he would not set a date on this.
The minister said it was very unlikely this would happen before he left office.
The deal on free GP care for children under six and hospital waiting lists are set to dominate the annual conference of the Irish Medical Organisation, which officially opens today.
The Government wants the deal operational by July.
But doctors will first want to examine the 30-page contract, when it is issued by the Health Service Executive in a few weeks, before deciding whether to sign up.