The Irish Medical Organisation has said it has reached an agreement on a contract for the provision of free GP services to children under six.
It said the agreement includes enhanced services for asthmatic children.
The IMO said it reached agreement with the Department of Health and the Health Service Executive on a number of key issues facing general practice in Ireland.
As part of the deal the Government will increase its investment in providing GP services to children under the age of six to €67m.
Doctors will be paid an annual fee of €125 per child.
Children under six will have wellness checks at ages two and five covering their height and weight.
Each child diagnosed with asthma will also have an annual check.
Around 50,000 people, with a medical card or GP visit only card, are expected to benefit from the Type 2 diabetes care plan. 
Under this plan those who hold a medical card or a GP- only card will be entitled to two visits a year to their GP as part of diabetes care. 
GPs will be paid €100 a year for these patients. 
The detailed arrangements have still to be finalised over the next few weeks.
This part of the deal announced today will not start until the last quarter of 2015, with an estimated cost of about €4.5 million next year.
Minister for Health Leo Varadkar and Minister for Primary Care, Social Care and Mental Health Kathleen Lynch welcomed the deal.
They said: "This agreement represents the first step in the phased introduction of a universal GP service without fees.
"The commencement of this service this summer will make a real difference to the lives of the youngest in our society."
Mr Varadkar said: "This agreement is a major step forward in improving access, quality and affordability of health care in Ireland."
He said from this summer, up to 300,000 children and senior citizens who currently have to pay to see their GP will no longer have to do so.
Mr Varadkar said the new enhanced service covers all children under six, including those who have medical cards already.
Adults of all ages will benefit from a new diabetes programme, he said, "meaning they will have their condition managed by the GP who knows them, rather than in the hospital clinic".
Deal stops 'cycle of cutbacks' - IMO
Dr Ray Walley, chairman of the GP Committee of the IMO, said: "We have stopped the cycle of cutbacks and begun the process of bringing new investment into general practice.
"We have more to achieve but we believe this is a significant first step."
Speaking on RTÉ's News At One he said the Government, HSE and the department had listened to the haemorrhaging of general practitioners.
The deal is a start to the funding of general practice, he said, adding he is optimistic that more funding will be made available to provide for more chronic care.
There will be no ballot on the agreement and it will be up to each GP to decide if they want to accept the contract.
There will be a special meeting at the IMO conference, which begins today, on the development.
The minister is set to address delegates on Saturday.
Lynch expects most GPs to sign contract
Speaking on the same programme, Ms Lynch said that while some doctors might not sign up to the deal, she believes the numbers will be very few.
She said: "Doctors are independent traders. They will have an opportunity to sign the contract. I've never met a GP that didn't want to deliver the very best of care to [their] patients.
"It is the very first step on a journey and that journey should ensure that no one is in a position where money becomes an obstacle to bringing their child to a GP."
Ms Lynch said while the Government would have to "wait and see" how many doctors would sign up, she would be "very optimistic" that the take-up would be high.
She said it was a good deal for GPs and their practice development, and a good deal for the children of Ireland.
Ms Lynch said interim contracts will be released in the next two weeks and it is hoped the scheme will be operational by the end of June.
The Government will then go into negotiations about a permanent contract.
Ms Lynch said a co-payment, or additional payment by the patient, should not be requested by doctors and she was opposed to it.
She said the legislation does not allow for it under these contracts.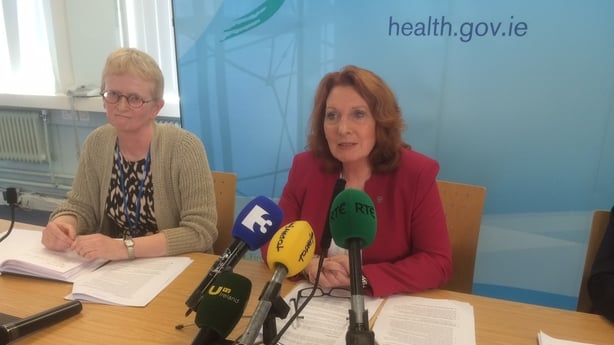 Minister for Children and Youth Affairs James Reilly said it was "a concrete step towards improving the health and wellbeing" of children.
The National Association of General Practitioners has said a decision will be made on whether or not to support the agreement at a national council meeting on Sunday.
However, its CEO Chris Goodey said the needs of the most vulnerable must be addressed first.
He said investing "millions into providing free GP visits to a healthy child under-six while denying a medical card to an eight-year-old with cancer is simply unjust.
"GPs will not support a scheme which compounds the appalling inequities of our dysfunctional health system."
Meanwhile, the Irish College of General Practitioners (ICGP) gave a cautious welcome to news of the agreement.
In a statement, ICGP Chair Dr Mary Sheehan said: "ICGP supports access to medical care based on need and not ability to pay and views this agreement as a positive move in this direction for all patients."
The statement also says that initial reports of the agreement addresses concerns raised by GPs.
The ICGP says that it remains concerned about the "potential for the provision of universal GP care for all children under six to disproportionately increase demand on an already stretched general practice service, which will have implications for all patients by reducing GP accessibility".
The Asthma Society of Ireland welcomed today's announcement, saying that the agreement is "a step forward in the better management of this chronic disease".