Iranian Supreme Leader Ayatollah Ali Khamenei has demanded all sanctions on Iran be lifted at the same time as any final agreement with world powers on curbing Tehran's nuclear programme is concluded.
Mr Khamenei, the Islamic Republic's most powerful figure and who has the last say on all state matters, was making his first comments on the interim deal reached between Iran and the powers last week in the Swiss city of Lausanne.
He repeated his faith in President Hassan Rouhani's negotiating team. But in remarks apparently meant to keep hard-line loyalists on side, he warned about the "devilish" intentions of the United States.
"I neither support nor oppose the deal. Everything is in the details, it may be that the deceptive other side wants to restrict us in the details," Mr Khamenei said in a speech broadcast live on state television.
His stand on the lifting of sanctions matched earlier comments by Mr Rouhani, who said Iran would only sign a final nuclear accord if all measures imposed over its disputed atomic work are lifted on the same day.
These include nuclear-related United Nations resolutions as well as US and EU nuclear-related economic sanctions.
"All sanctions should be removed when the deal is signed. If the sanctions removal depends on other processes, then why did we start the negotiations?" Mr Khamenei said.
However, the United States said on Monday sanctions would have to be phased out gradually under the comprehensive nuclear pact. France also said on Tuesday that many differences, including on sanctions, needed to be overcome if a final agreement was to be reached.
The US and EU sanctions have choked off nearly 1.5m barrels per day of Iranian exports since early 2012, reducing its oil exports by 60%, to around 1m barrels a day.
The tentative accord was a step towards a settlement that would allay Western fears that Iran could build an atomic bomb, with economic sanctions on Tehran being lifted in return.
Iran denounces Yemen air strikes
Iran's supreme leader has also denounced Saudi-led air strikes against rebels in Yemen as "criminal acts".
Mr Khamenei said Saudi Arabia would not emerge victorious from the war in Yemen, where Iran-allied Houthi fighters who control the capital Sanaa have been trying to seize the southern city of Aden from local militias. 
Iran has repeatedly urged a halt in the air strikes and called for dialogue in Yemen, however Mr Khamenei's comments are the most critical yet from Tehran about the offensive by Saudi Arabia and its Arab allies.
"The aggression by Saudi Arabia against Yemen and its innocent people was a mistake... It has set a bad precedent in the region," Mr Khamenei said in a televised speech.
"This is a crime and genocide that can be prosecuted in international courts," he added. "Riyadh will not emerge victorious in its aggression."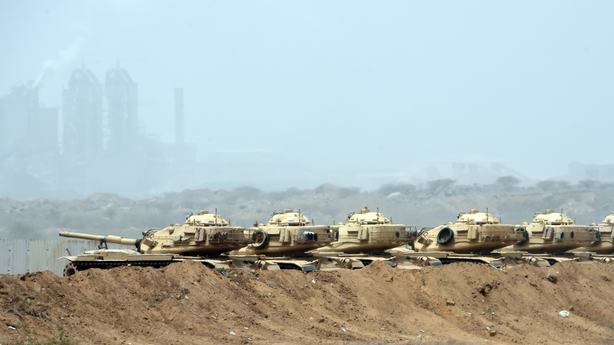 Iranian President Hassan Rouhani also criticised the coalition assembled by Riyadh, saying it was repeating errors committed in other parts of the Arab world where Sunni Saudi Arabia and Shi'ite Iran back rival sides.
"You tried it in Lebanon, and realised your mistake. You tried it in Syria, and realised your mistake. You realised your mistake in Iraq. You will realise soon that you also made a mistake in Yemen," he said.  
Coalition air strikes hit Yemen defence ministry: witnesses
Air strikes by the Saudi-led coalition today hit Yemen's defence ministry in the capital Sanaa which is controlled by Shiite rebels and allied troops, witnesses said.
Three explosions were heard as warplanes hit the building in central Sanaa and thick smoke billowed over the area, the witnesses said.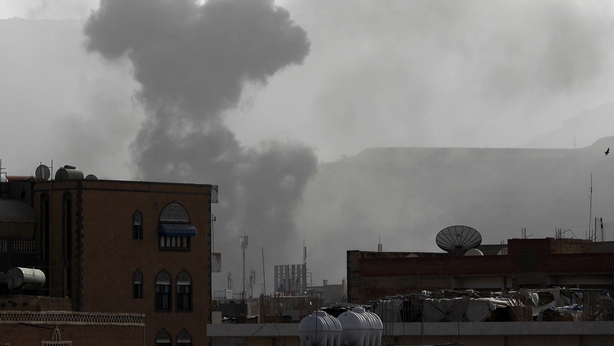 The attack was part of raids that struck positions across the capital, including a base of the elite Republican Guards in Fajj Attan, in south Sanaa, according to witnesses.
The Republican Guard is a force that has remained loyal to former president Ali Abdullah Saleh, who stepped down in 2012 following nationwide protests against his three-decade rule and who is allied with the Huthi rebels against the government.
A food supply building belonging to the army in western Sanaa was also targeted in an air raid, other witnesses said.
The fighting has killed more than 600 people and displaced more than 100,000, according to the United Nations. Aid workers have warned of a looming humanitarian catastrophe.