Aid will be allowed into Yemen when conditions are right, the Saudi-led military coalition said today after the Red Cross urged a 24-hour ceasefire to address 'dire' conditions.
"The humanitarian operation is part of our job, part of our responsibility," Brigadier General Ahmed Assiri said on the tenth day of coalition air strikes against Shia Houthi rebels in Yemen.
The operation has closed airports and restricted movement at seaports, hampering aid deliveries.
Hospitals treating the wounded are running low on medicines and the streets of the southern city of Aden are strewn with bodies, the International Committee of the Red Cross said, calling for "an immediate halt to the fighting".
It added that food stocks are running low and there are fuel and water shortages.
We call for urgent 24-hour pause in all fighting in #Yemen. Medical aid must get in fast http://t.co/XQlPXYiDuE

— Dominik Stillhart (@DStillhartICRC) April 4, 2015
Brigadier Assiri said aid "will come when we are able to set the conditions (so) that this aid will benefit the population".
He said the coalition requires that aid delivery does not interfere with the military operation, that aid workers are not put at risk, and that supplies do not fall into the wrong hands.
"We don't want to supply the militias," he added.
The coalition aims to defeat the Houthi rebels who seized power in the capital Sanaa in February, and who Riyadh feared would take over the entire country and shift it into the orbit of Shia Iran, Sunni Saudi Arabia's regional rival.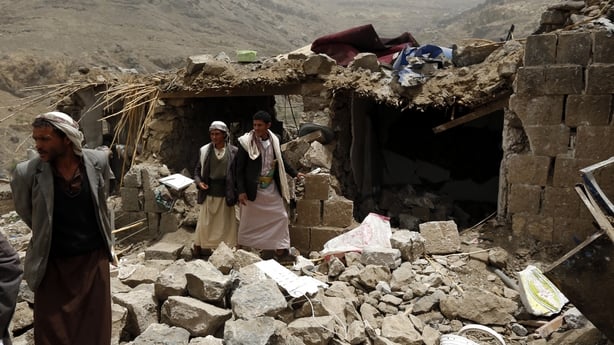 Yemen air strike kills family of nine - residents
An air strike on a village near Sanaa killed a family of nine, residents said, in what appeared to be a hit by the Saudi-led military campaign.
Five other people were wounded and some citizens remained under the rubble, state news agency Saba said.
Residents near Okash village, which is near an air force camp on Jebel al-Nabi Shouieb mountain, said the air strike was on Friday night and killed nine people.
Saba said the family consisted of two men, a woman and six children.
It posted a picture on its website showing three children lying next to each other with pieces of papers with the date 3 Apri 2015 written on them.
Reuters could not immediately verify the authenticity of photo.
The United Nations Security Council will meet tomorrow after Russia called for a meeting to discuss a proposal for a humanitarian pause in the air strikes on the country.
Yemen President Abd-Rabbu Mansour Hadi fled Aden last week in the face of the Houthi offensive, which has continued to advance despite nine days of air strikes by the coalition.