Fighting in Yemen over the past few weeks has killed more than 540 people and wounded 1,700 as the country sinks deeper into a multi-sided conflict, the World Health Organisation has said.
"More than 540 people have been killed and some 1,700 others wounded by the violence in Yemen since 19 March," a WHO spokesman said.
A UNICEF spokesman said at least 74 children have been killed and 44 wounded since 26 March.
Saudi-led alliance airstrikes are continuing to target Houthi rebels positions and military units loyal to former president Ali Abdullah Saleh throughout Yemen.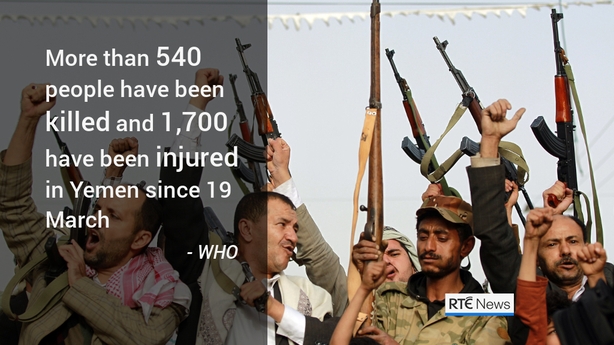 Meanwhile, the International Committee of the Red Cross (ICRC) aims to fly two planes carrying a total of 48 tonnes of medical help and other aid to Yemen over the next two days.
The Red Cross has said the humanitarian situation in the southern Yemeni city of Aden is "catastrophic".
The United Nations children's agency UNICEF said the conflict was pushing Yemen towards a humanitarian disaster.
Delivery of the aid shipments has been repeatedly held up as the ICRC negotiated clearance with the Saudi-led coalition, which has mounted air strikes on Yemen's Houthi fighters for nearly two weeks. It also struggled to find aircraft to fly into Yemen.
ICRC spokeswoman Marie Claire Feghali said it planned to fly the first plane, which is loading up in Jordan with 16 tonnes of medical aid, to Yemen tomorrow.
The second, carrying medical aid and other equipment including tents and generators, is being prepared in Geneva and will fly to Yemen on Thursday, she said.
Both flights have been cleared with Saudi Arabia.
Ms Feghali said the Red Cross was still trying to get clearance for a boat to bring a team of surgeons from the ICRC and the medical aid group Medecins Sans Frontieres to the port city Aden from Djibouti.
The Iranian-allied Houthis launched an assault on Aden in March.