Minister for Education Jan O'Sullivan has told primary school teachers she believes teacher salaries and other education related areas are all worthy of greater funding.
However, Ms O'Sullivan warned delegates attending the annual congress of the Irish National Teachers' Organisation to be realistic in terms of what forthcoming public sector pay talks can deliver.
She was greeted with measured applause from the 800 or so delegates when she addressed the conference this morning. There were no protests.
Delegates welcomed what she had to say in terms of aspiration, but her speech fell short on clear commitments.
The minister said reducing class size would be a personal and political priority for her this year.
She added that said general school funding, middle management posts, technology in schools, and teacher salaries were all worthy of greater funding.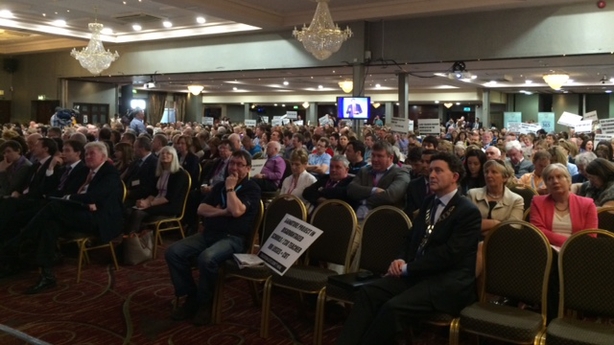 She said she recognised that pay was the biggest issue for delegates this year.
But there was some discontent among the delegates when she advised teachers to be realistic about what could be delivered in terms of pay immediately.
Ms O'Sullivan was addressing the second day of the INTO conference in Ennis, Co Clare, while more than 800 teachers are gathering in Killarney and in Wexford for the annual conferences of the ASTI and TUI teacher unions.
Normally the minister would address the ASTI conference this evening.
However, tensions over Junior Cycle reform mean no invitation was issued this year.
Blog: Future of 'parent rule' still unclear
Cap on preference for past pupils' children sought
Minister O'Sullivan also told teachers that she favours allowing schools to reserve up to 10% of places for the children of past pupils.
The Government has published a new bill to govern school admission policies on the day the annual second level teachers' conferences get under way.
The legislation gives the Minister for Education the right to regulate whether or not schools can favour the children of past pupils.
The Admissions to School Bill also requires schools to provide details of the school's arrangements for students who do not wish to attend religious instruction.
The new legislation gives power to some State agencies to compel a school, where necessary, to accept a child.
It bans the practice of schools charging parents who apply for a school place.
However, it stops short of deciding on the controversial issue of whether schools should be allowed to favour the children of past pupils when it comes to enrolment.
Initial draft proposals recommended banning the practice, but former minister Ruairi Quinn said he favoured allowing it for 25% of places.
The legislation leaves the matter to be decided by regulations yet to be drawn up.
Ms O'Sullivan said the new legislation aims to provide a fair and transparent system for children to access schools.
Speaking earlier on RTÉ's Morning Ireland, Ms O'Sullivan said the legislation was at an early stage and there would be consultation.
However, the minister said she believed limiting the number of places for the children of past pupils to 10% was fair.
She said she believed that schools should be allowed to continue favouring the siblings of current pupils.
The ASTI has said it is in favour of an open, equitable, fair and transparent system whereby children are admitted to schools.
Speaking on RTÉ's Today with Sean O'Rourke, ASTI General Secretary Pat King said he did not think it was essential that children go to the same schools as their parents and that too much significance had been attached to the issue.
The Immigrant Council of Ireland has given a "cautious welcome" to the plans, but said the minister's proposals will require detailed examination.
O'Sullivan urges teachers to vote Yes in referendum
The minister received strong and sustained applause from teachers when she asked them to vote Yes in the forthcoming same-sex marriage referendum.
Her appeal came after she told teachers the Government would amend legislation that allows religious run schools to discriminate against teachers on the basis of their lifestyle.
The minister said the Government would deal with the issue over the next couple of months.
The Government has promised to amend Section 37 of equality legislation, under which schools can discriminate against teachers or prospective teachers if they feel their lifestyle undermines the religious ethos of the school.
Gay teachers especially say they feel threatened and silenced by the provision.
The INTO has called on the Government to repeal, not amend, the provision.
Time to review DEIS programme
Ms O'Sullivan has also told teachers she believes it is time to review the DEIS programme, which supports schools in disadvantaged areas.
Ms O'Sullivan invited the INTO and other education groups to make submissions on options for future interventions to tackle educational disadvantage.
The minister said new schools had been established and school populations had changed since the DEIS programme was introduced ten years ago.
But she said the schools identified in 2005 remained the only ones in the scheme.
Ms O'Sullivan said she would set up a group to establish eligibility criteria to re-identify the level of need in schools.
She said over the next school year she would complete a revised identification process for schools participating in DEIS.
Ms O'Sullivan received a polite reception from delegates at the conference.
Delegates at the conference have voted unanimously in favour of pay restoration, reduced class sizes and extra funding for primary schools.