The Government has announced housing targets for every local authority area in the country for the period to 2017, with the intention of cutting the social housing waiting list by 25%.
In a statement, Minister for the Environment, Community and Local Government Alan Kelly and Minister for State Paudie Coffey said that the plans are designed to accommodate a quarter of people currently on waiting lists for social housing.
The plan will see an investment of over €1.5bn in a combination of building, buying and leasing schemes by local authorities.
The Department of the Environment said: "The various schemes will target the refurbishment of vacant social housing units and local authorities will have the option of both building and acquiring housing.
"The average cost of building a social housing unit is €185,000 – meaning in some parts of the country it will remain cheaper and quicker to acquire as opposed to build."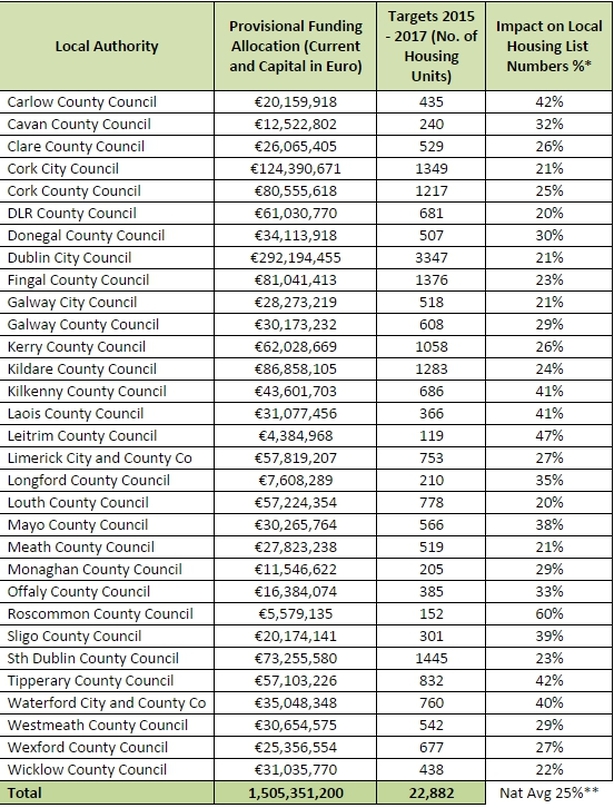 The department said the Dublin local authorities will be given targets above what they proposed "to ensure strong delivery where the need is greatest".
It said: "The combined funding total for the Dublin local authorities comes to over €500 million to 2017."
Mr Kelly said: "Housing is the number one priority for the Government."
He added: "The recovering economy is allowing us to invest in vital public services such as housing and we are doing that."
Mr Coffey said: "€1.5 billion over the next three years is a huge investment in housing; and Minister Kelly and I now expect Local Authorities to deliver on the plans that they have submitted to our Department over the next three years."