Irish Water suspects there are over 30,000 pipe leaks on customer properties.
The loss of water is estimated to be 46 million litres every day.
The utility estimates that enough water to fill 18 Olympic size swimming pools is being lost every day through leaking pipes on the customer side of meters.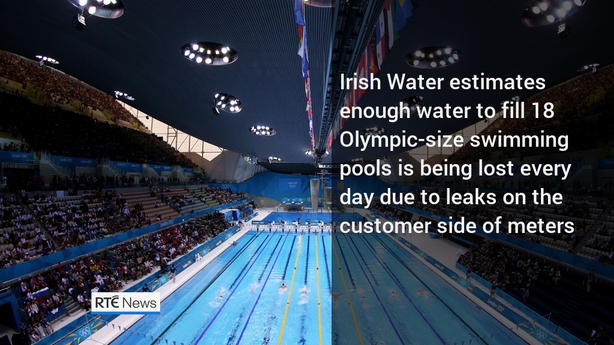 Around 7% of all meters read so far have indicated such a leak, many involving internal plumbing, like toilet cisterns.
Irish Water is now writing to customers to inform them if it has found a leak.
If it is inside the house the customer or landlord will have to pay for the repair, if it is on the external pipe Irish Water will offer a free first repair.
Irish Water says it will prioritise repair works at properties with the largest leaks.
Jerry Grant, Head of Asset Management at Irish Water, said: "Significant investment over several years is needed to address weaknesses in our water system and tackling the high level of water leakage on both the public and customer side of the network is critical.
"The metering programme is essential in helping us to fully understand our water demand requirements and where water is being lost.
"Water is expensive to treat and the current situation where almost half the water treated is lost through leaks both on the network and customer properties is unsustainable," he said.
Minister for Public Expenditure and Reform Brendan Howlin this morning said it was "crazy" that enough water to supply Limerick was leaking into the ground.
He said the discovery by Irish Water was a good news story and the utility has committed €25m to tackle the issue.
Fianna Fáil's Seán Fleming said the party was introducing legislation to amend the Water Services Bill to remove the legal obligation from local authorities to pass the names of tenants on to Irish Water. 
He said the information that has already been handed over by local authorities should be deleted by the comapny. 
Responding to questions from the media, Mr Fleming denied that he was encouraging people to dodge their charges. 
He said Fianna Fáil also wants early child care providers to be exempt from water charges, pointing out that schools don't pay water rates.