The Government is understood to be considering introducing legislation to recoup unpaid water charges from people's income.
Latest figures show 1.23 million people have registered with Irish Water, with just under a million of them Irish Water customers.
The company believes there are a total of 1.5 million customers.
The Government is now thought to be considering taking unpaid water charges from peoples' wages or social welfare payments.
A distinction would be made between people who cannot pay and those who will not pay.
The money would not be taken if a customer could not pay, or alternatively it would be taken over a longer period.
The measures in relation to unpaid charges would not happen until well into 2016.
A spokesperson for the Department of Environment said all options are being considered.
Minister for the Environment Alan Kelly tonight refused to confirm or rule out the reports.
Speaking on RTÉ's Claire Byrne Live, he said: "I'm not going to pour cold water on it for the simple reason that is this, from an equity and a fairness point of view, you know we've 66-67% of people who have signed up and that needs to be respected."
Earlier today the minister said the Government had reacted to mistakes made in the setting up of Irish Water and he now believed the public were "coming with" it.
Speaking on RTÉ's Morning Ireland, Mr Kelly said the Government was satisfied with the volume of people who have signed up to Irish Water.
About 130,000 people signed up in the past month, he said.
Mr Kelly also said "there will always be people who have concerns", adding that "mistakes were made" in the set-up of Irish Water but "the Government have reacted to these and the people are coming with us".
The minister said he will be bringing forward legislation to deal with those who refuse to pay water charges in the very near future.
There would be a distinction made between those who cannot pay and those who will not pay, he said.
Tens of thousands of people attended a water charges protest in Dublin at the weekend.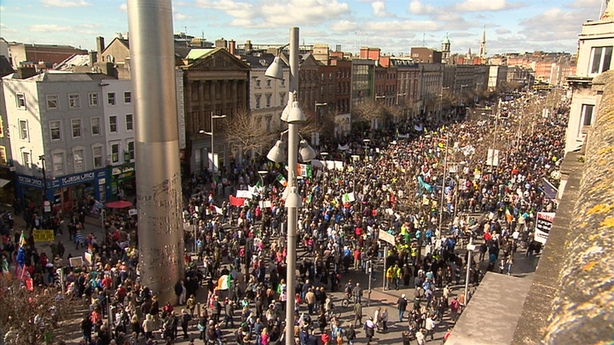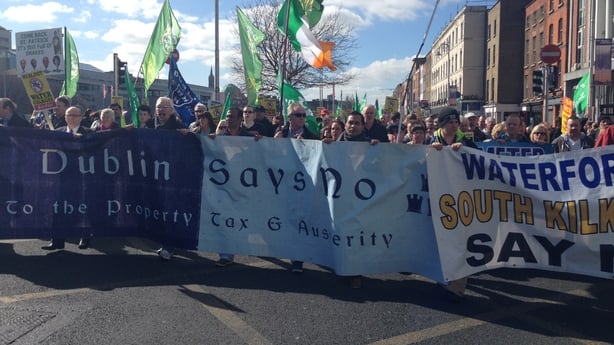 March organisers stated over 80,000 people took part, while observers said the figure was between 30,000 and 40,000.
The demonstration was organised by Right2Water, a coalition of community groups, political parties and trade unions.
Anti-Austerity Alliance TD Paul Murphy encouraged people to have confidence in the anti-water charge movement, which he said was still strong.
On the issue of the lack of records kept of a series of meetings regarding the setting-up of Irish Water in 2012 involving former minister Phil Hogan, Mr Kelly said he was not worried about the absence of minutes.
He said that all critical decisions were made at Cabinet level, all fiscal decisions were overseen by the Commission for Energy Regulation and there were also corporate governance for Bord Gáis Éireann which had to be adhered to.
People Before Profit TD Richard Boyd Barrett said suggestions that the campaign against water charges is dwindling is preposterous.
Speaking on RTÉ's Today with Sean O'Rourke, Mr Boyd Barrett said that the public had been told the movement was dead for the past few months but march organisers estimated that there was 80,000 people on the streets for Saturday's protest.
Mr Boyd Barrett said if the equivalent proportionate demonstration were held in London there would be a million people on the street.
He said Irish Water's customer registration figures were highly debatable, with landlords with multiple properties accounting for a high proportion of registrations.
Mr Boyd Barrett said the figure given by Irish Water of a total customer base of 1.5 million was also totally spurious.
He said the anger against water charges remained and a large part of the population simply could not pay.
He said the scale of the protest at the weekend was higher than another type of protest in the modern history of the State.