At least 38 people were killed in clashes between rebel forces and tribes near a southern oil region in Yemen.
The fighting erupted when tribesmen attacked positions held by Iranian-allied Houthi rebels near the oil-rich area of Usaylan in Shabwa province.
The clashes came as Saudi-led coalition warplanes struck rebel positions across Yemen in a four-day campaign to try to prevent the fall of President Abedrabbo Mansour Hadi.
Elsewhere, Saudi Arabia's navy has evacuated dozens of diplomats from Yemen.
The United Nations pulled out international staff after a third night of Saudi-led air strikes trying to stem advances by Houthi fighters.
Riyadh's intervention, a surprise move from a conservative monarchy better known for flexing its muscle in oil markets than through military might, is planned to last a month but could extend for five or six.
Satellite imagery had shown in January that the Houthis had repositioned long-range Scud missiles in the north.
The missiles are close to the Saudi border and aimed at Saudi territory.
A Yemeni official said Iran, which says it has not armed the Houthis, was providing parts for the missiles.
Up to 86 foreign diplomats and Saudi nationals were shipped out of Aden to the Red Sea port of Jeddah.
The director general of Yemen's Health Ministry said more than 68 people had been killed and 452 wounded in the city since Wednesday.
Explosions at Aden's largest ammunition depot yesterday killed at least 15 people and injured dozens, he said.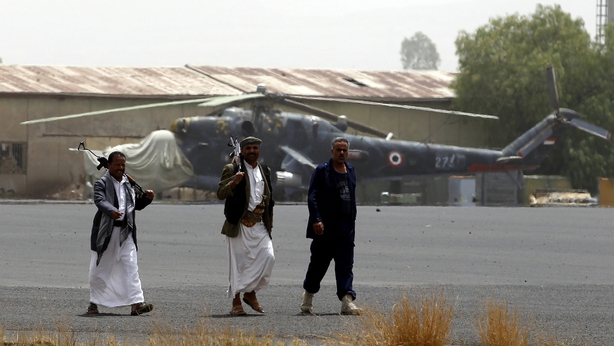 In the capital Sanaa, which has been under Houthi control since September, the UN said most of its 100 international staff members were evacuated.
Airport officials said up to 250 other foreigners working for international oil companies and NGOs also flew out to Ethiopia and Djibouti.
Houthi fighters, seeking to overthrow the Western- and Saudi-backed Mr Hadi, have continued to make gains since the Saudi-led coalition launched air strikes against them on Thursday.
On Friday, the Houthis and allied army units gained their first foothold on Yemen's Arabian Sea coast by seizing Shaqra, 100km east of Aden, allowing them to open a new front to march on the south's main city.