A spokesman for the coalition conducting airstrikes against Shiite rebels in Yemen has said the raids will continue until its goals have been achieved.
Saudi Arabia, which is leading the coalition strikes, began its assault to counter Iran-allied forces besieging the southern city of Aden where the US-backed Yemeni president had taken refuge yesterday.
However, Saudi Arabia has said it has no immediate plans to launch ground operations in the gulf state, although a spokesman said its forces are ready to do so if needed.
Earlier, Yemen's embattled President Abedrabbo Mansour Hadi arrived in Riyadh, the kingdom's official Saudi Press Agency reported.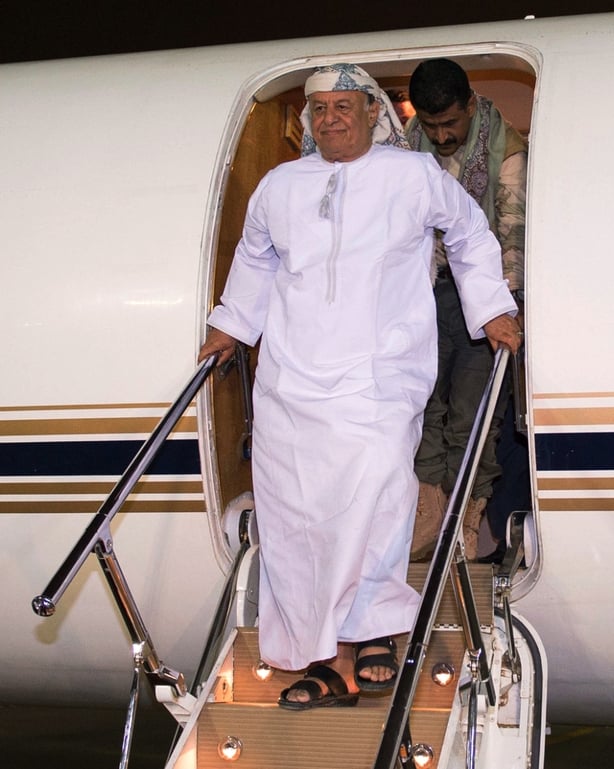 Mr Hadi's whereabouts had been unknown since the Huthi rebels and their allies closed in this week on the main southern city of Aden, where the president sought refuge after he fled the rebel-controlled capital Sanaa last month.
Yemen's acting foreign minister Riyad Yassin told reporters in Cairo that Hadi would take part in a two-day Arab summit to be held in Egypt from Saturday.
Saudi Arabia carried out air strikes on the country for a second successive night. 
Saudi Arabia began its assault assault to counter Iran-allied forces besieging the southern city of Aden where the US-backed Yemeni president had taken refuge yesterday.
Al-Arabiya television reported the kingdom was contributing as many as 150,000 troops and 100 warplanes to the operations.
Jordan and Egypt have both confirmed they will join the Saudi-led operation.
Al-Arabiya also said planes from, Morocco, Sudan, Kuwait, the United Arab Emirates, Qatar and Bahrain would also participate.
A widening Yemen conflict could pose risks for global oil supplies, and Brent crude oil prices shot up nearly 6% soon after the operation began.
Unidentified warplanes had earlier launched air strikes on the main airport in the Yemeni capital, Sanaa, and its al-Dulaimi military airbase, residents said.
That came soon after Saudi Arabia's ambassador in Washington, Adel al-Jubeir, announced the operation.
"We will do whatever it takes in order to protect the legitimate government of Yemen from falling," Mr Jubeir told a news conference.
Four Egyptian naval vessels have crossed the Suez Canal en route to Yemen to secure the Gulf of Aden, maritime sources at the Suez Canal said.
              
The sources said they expected the vessels to reach the Red Sea by this evening.
Meanwhile, US Secretary of State John Kerry held a conference call with Gulf ministers to discuss the Yemen crisis, a senior US official said.
Mr Kerry "commended the work of the coalition taking military action against the Houthis" and noted Washington's support "including intelligence sharing, targeting assistance, and advisory and logistical support for strikes against Houthi targets," the State Department official said.
Yemen's slide towards civil war has made it a crucial front in mostly Sunni Saudi Arabia's rivalry with Shia Iran, which Riyadh accuses of stirring up sectarian strife throughout the region and in Yemen with its support for Houthi rebels.
The crisis now risks spiralling into a proxy war with Iran backing the Houthis, and Saudi Arabia and the other regional Sunni Muslim monarchies supporting Yemeni President Abd-Rabbu Mansour Hadi.
Fighting has spread across the Arabian peninsula country since last September, when the Houthis seized Sanaa and advanced into Sunni Muslim areas, forcing Mr Hadi out of the capital.
Saudi Arabia has suspended international and domestic flights at seven airports in its south, aviation authorities said.
              
The airports affected include Jizan, Abha and Wadi al-Dawaser, the General Authority of Civil Aviation said in a brief statement. It did not give a reason for the suspension or say when it might be lifted.