German state prosecutors have said they had found evidence that Andreas Lubitz, the Germanwings co-pilot who is suspected of deliberately crashing a passenger plane in the French Alps, had hidden an unspecified medical condition from his employers.
"Documents with medical contents were confiscated that point towards an existing illness and corresponding treatment by doctors," said the prosecutors' office in Duesseldorf.
The pilot lived in the city, which is where the flight from Barcelona was heading.
"The fact there are sick notes saying he was unable to work, among other things, that were found torn up, which were recent and even from the day of the crime, support the assumption based on the preliminary examination that the deceased hid his illness from his employer and his professional colleagues," they said.
The prosecutors said in a statement that the documents were found in searches of Mr Lubitz's homes in Duesseldorf and in the town of Montabaur in the state of Rhineland-Palatinate.
The office said no suicide note has been found, and there has been no indication of any political or religious motives.
It added that evaluation of documents found in his home will take some days.
Dusseldorf University Clinic has said that Mr Lubitz attend the hospital in February and March of this year, most recently 10 March.
The hospital said that Mr Lubitz was there for diagnosis but would not give further details because of privacy rules.
The hospital also said that the media reports of Mr Lubitz being treated for depression are wrong.
German newspaper Bild earlier reported that Mr Lubitz received psychiatric treatment for a "serious depressive episode" six years ago, German newspaper Bild has reported.
Citing internal documents and Lufthansa sources, Bild said Mr Lubitz spent a total of one-and-a-half years in psychiatric treatment.
It reported that the relevant documents would be passed to French investigators once they had been examined by German authorities.
Mr Lubitz had been employed as a flight attendant when he first tried to become a pilot in 2008 after waiting for eight months.
However, he did not start working as a first officer (co-pilot) for Lufthansa until September 2013.
A Lufthansa spokeswoman said this morning that the airline would not comment on the state of health of the co-pilot.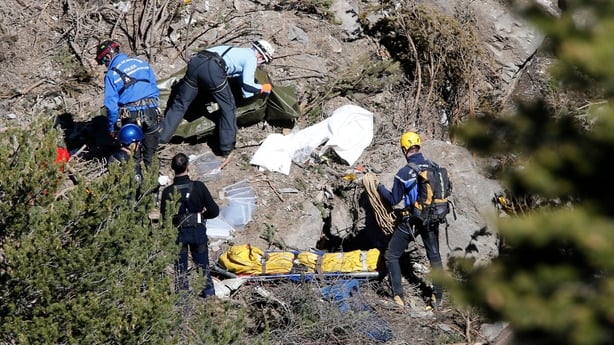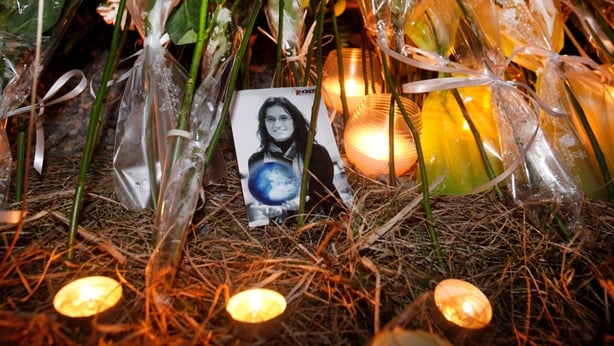 Bild also reported that the pilot used an axe to try to force his way back into the cockpit.
The cockpit flight recorder showed that the pilot repeatedly knocked and tried to get back in as the plane went into its fatal descent, French prosecutors said.
However, Bild reported that he also tried using an axe to break down the cockpit's armoured door.
This could not be immediately confirmed, but a spokesman for Germanwings confirmed to AFP that an axe was on board the aircraft.
Such a tool is "part of the safety equipment of an A320," the spokesman said.
Meanwhile, investigators took evidence, including a computer, from the home of Mr Lubitz's parents in his hometown of Montabuar.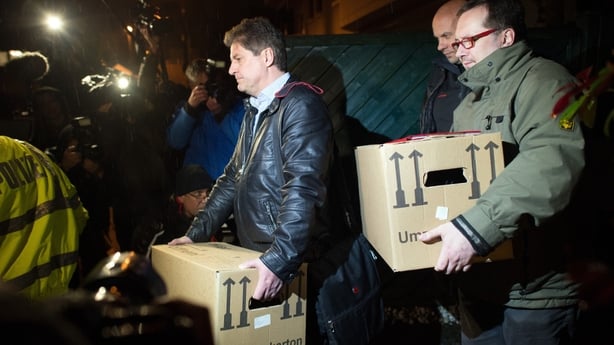 A man covered with a jacket was also escorted out of the house.
Police also searched the co-pilot's apartment in Duesseldorf and removed a number of boxes.
Police said they had made a significant discovery at one of the homes but gave no details of the find.
However, a police spokesman said there was "no smoking gun" among the evidence recovered so far.
Investigators are focusing on Mr Lubitz's "personal, family and professional environment" to try to determine why he locked his captain out of the cockpit and reset the autopilot.
Duesseldorf's public prosecutor said in a written statement that searches in Duesseldorf and other places were aimed at "the discovery and securing of personal documents" to help clarify the situation.
German airlines adopt two-person cockpit rule
Lufthansa said it will introduce new rules requiring two crew members to be in the cockpit at all.
Lufthansa had said yesterday that it did not see any reason to hastily change its procedures, but many other airlines swiftly changed their own rules.
"The passenger airlines of the Lufthansa Group will put this new rule into place as soon as possible in agreement with the relevant authorities," Lufthansa said in a statement today.
The Lufthansa Group also includes Germanwings, Austrian Airlines, Swiss Air and Eurowings.
The rule has been agreed by all German airlines, aviation association BDL said in a statement. Air Berlin had announced plans yesterday to introduce the new procedure.
Scandinavian airline SAS also said that it had changed procedures to ensure two people are in the cockpit at all times.
Lufthansa also said it was creating a new role of group safety pilot, who will check and develop flight safety procedures and report directly to Chief Executive Carsten Spohr.
Currently, each airline has its own safety pilot.
The group safety pilot role will be held by Werner Maas, currently the safety pilot for the Lufthansa brand.