Minister for the Environment Alan Kelly has confirmed that 30 June will be the deadline for registering with Irish Water in order to be eligible to receive the €100 water conservation grant.
He was speaking in the Dáil this evening, during a private members motion by members of the Technical Group to abolish water charges.
Those who do not register by 30 June will not be able to receive the grant from the Department of Social Protection from September.
In his speech to the Dáil, Mr Kelly challenged Opposition criticism of water charges and the "myth of double taxation".
He said the State "provides our transport services, yet people pay for their train tickets. The State builds libraries, yet people pay to take books out. The State builds houses, yet people pay subsidised rents."
He added: "If water is a human right, then surely food is, surely housing is, yet the Opposition seem OK with people making a contribution towards those costs."
He said the Opposition believes "nobody ever has to pay for anything, that we live in a utopia where everything is free".
Earlier, Anti-Austerity Alliance TD Paul Murphy said people will not be "bullied" into paying water charges, after it emerged that the Government is considering introducing legislation to recoup unpaid water charges from the earnings of those who refuse to pay.
Speaking on RTÉ's Morning Ireland, Mr Murphy said recouping the money would entail Irish Water going to court and obtaining an attachment order to deduct the payments from wages or welfare payments.
He said this would involve a huge number of cases and would not be practical, even if a fast-tracked court process is introduced, as some reports suggest.
It would not affect the continuing water protests or break the boycott of charges, he said.
Mr Murphy said Saturday's protest shows the strength of the anti-charge movement, adding that the Government is now attempting to intimidate people into paying, which he called "bullying behaviour".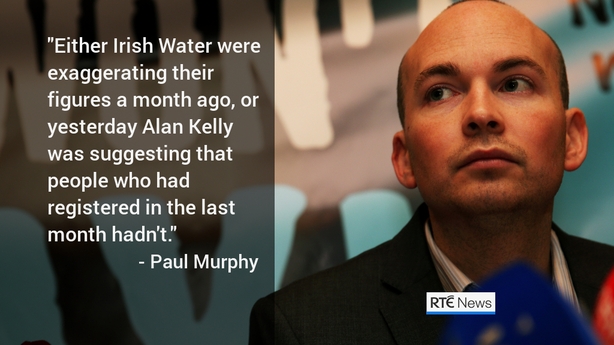 Mr Murphy questioned the figure of 130,000 people which Minister Kelly said was the number who had registered with Irish Water in the past month, bringing the total of registrations to 1.23 million.
Mr Murphy said that Irish Water had given him the 1.23 million figure over a month ago.
He said the charges would be beaten by a campaign of non-payment, and that whatever government came into power in 2016 would be under "massive pressure" to abolish the charges.
Mr Murphy said people were justified in deciding not to pay a tax - although it was the law - if they believed it was unjust or regressive. 
When it was put to him that the majority of TDs supported water charges and were elected with that mandate, Mr Murphy said: "It's the Government that supposedly has the mandate, and the Labour Party was elected on a false promise of scrapping the water charges." 
He said the money needed to upgrade and improve the entire water infrastructure could be paid for with a financial transaction tax, which the deputy claimed could raise €500m - or an increase in the effective rate of corporation tax at home, even if it meant that some multinational companies threatened to leave.
Govt worried about mass boycott - Coppinger
Socialist and Anti-Austerity Alliance TD Ruth Coppinger has said the Government is clearly worried about a mass boycott of water charges.
At an AAA news conference Ms Coppinger said water charge arrears could not be taken from wages or welfare as it was a utility, and the process would involve a major legislative change.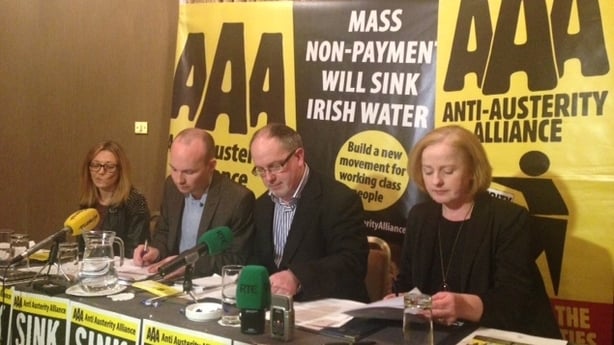 She said if this measure was brought in other utility companies would demand similar treatment for their arrears.
Ms Coppinger said a mass boycott was essential if people wanted to get rid of charges.
She also called on the trade union movement to come out forcefully against charges.
Minister for Public Expenditure and Reform Brendan Howlin said there should be a mechanism to ensure people who are compliant with water charges are not disadvantaged over people who have come to the conclusion there are things they do not have to pay for.
Mr Howlin said the Government was pleased that a clear majority of people had signed up to pay for water.
He also said there had to be fairness and balance in the system, adding that if people who are in a position to pay decide not to pay that cannot be allowed to stand.
When asked about Saturday's protest against water charges, Mr Howlin said there were those protesting against taxes generally, and there were those, including those in leadership, who simply wanted to bring down the Government.
However, he said there were others at the end of their tether and the Government recognised that.