Ireland experienced a partial solar eclipse this morning, although cloud cover obscured the skies across much of the country.
Broken cloud offered close to ideal viewing conditions of the eclipse at the Blackrock Castle Observatory in Cork city. 
A large crowd gathered at the castle where Cork Astronomy Club and Blackrock Castle astronomers set up a number of solar stations to observe the eclipse.
Schools from the area are availing of a number of solar workshops, a planetarium show and solar talks throughout the day at the observatory.
Although they happen quite regularly around the world, solar eclipses are quite rare in Ireland.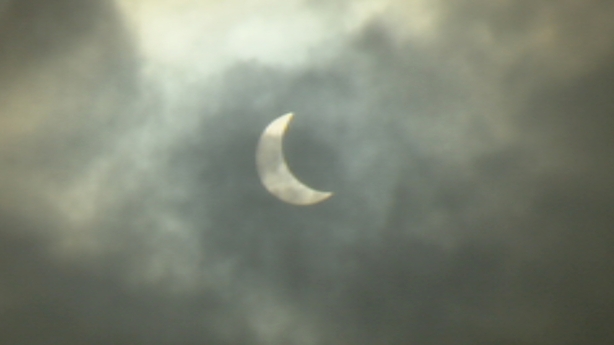 The last one was 16 years ago, and the next is not due until 2026.
Caused by a shadow created by the Moon as it passes between the Earth and the Sun, the partial eclipse began at 8.30am.
By 9.30am 90% of the Sun's surface was blocked out by the Moon, before it slowly began to reveal itself again.
Gallery of eclipse images from around Ireland
Silver lining in humour as clouds mask eclipse
Air Corps takes to the skies for the eclipse
#Solareclipse seen from space by ESA's Proba-2 http://t.co/Re6vpcVYRD pic.twitter.com/KWuSz4b6rs

— ESA (@esa) March 20, 2015
Eclipse in #Galway looks great through filter glasses. Attempt at reproducing view through camera on the phone pic.twitter.com/gDaX8D21vZ

— Pat McGrath (@patmcgrath) March 20, 2015
Public viewing events were organised by astronomy clubs around the country. 
Show time! Broken cloud @blackrockcastle observatory #Cork offering close to ideal conditions for #eclipse @rtenews pic.twitter.com/NM8kDAakcR

— Paschal Sheehy (@PaschalSheehy) March 20, 2015
Big crowd gathered @nuigalway for eclipse viewing event pic.twitter.com/Pga9k2y6ao

— Pat McGrath (@patmcgrath) March 20, 2015
Professor Tom Ray talks about the solar eclipse on a @news2dayRTE special https://t.co/4fKgnjL1gM

— RTÉ News (@rtenews) March 20, 2015
All happy campers at eclipse viewing @nuigalway this morning. Communal vibe pic.twitter.com/eZYa7tIQMc

— Pat McGrath (@patmcgrath) March 20, 2015
Want to geek out on all the details about today's #SolarEclipse? Look no further than here: http://t.co/UjgmECayXO pic.twitter.com/UzvaDx850C

— NASA (@NASA) March 20, 2015
Eclipse comes via Old French and Latin from a Greek word meaning 'fail to appear, forsake its accustomed place'. #eclipse2015

— The OED (@OED) March 20, 2015