Independent TD Michael Lowry's former PR adviser Valerie O'Reilly is no longer a member of the board of the National Transport Authority (NTA).
It emerged in January that Mr Lowry passed a handwritten note to Taoiseach Enda Kenny in the Dáil chamber, suggesting that Ms O'Reilly be reappointed to the NTA board because she is "bright, intelligent and not bad looking either".
Documents released from the Department of Transport to RTÉ News, under the Freedom of Information Act, show that Ms O'Reilly's term of office on the board of the NTA concluded last Sunday.
It is unclear if Ms O'Reilly has applied to be reappointed to the board. She was not available for comment when contacted by RTÉ News.
A spokeswoman for Minister for Transport, Tourism and Sport Paschal Donohoe said: "There are six vacancies on the NTA board that will be filled in due course in the normal way by PAS [the Public Appointments Service] and we will not be commenting on Valerie O'Reilly or any other individuals board member."
Speaking to RTÉ's News at One on 26 January, Mr Lowry said that he did not mean to be sexist in the note he wrote to the Taoiseach.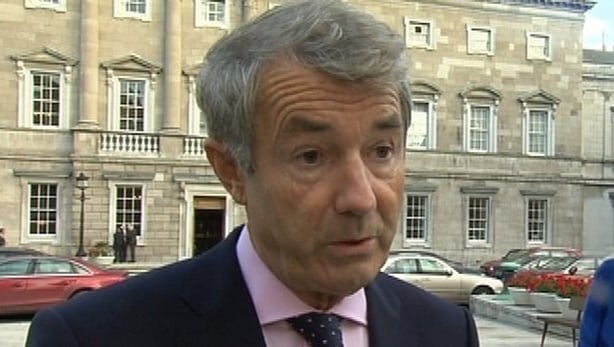 He said Ms O'Reilly was highly capable and very efficient, and that she should be considered for re-appointment on those conditions.
The Tipperary North TD said sending notes would not be uncommon or unusual and that it happened in the Dáil all the time.
He said his comment was not meant to be sexist, and that it was a light-hearted, unnecessary comment.
He said that he had no regrets over the note, which was published in the Sunday Independent.
Mr Lowry said that the note came about when Ms O'Reilly asked him to convey a message to the Government that she was willing to remain on as a board member.
The TD said that he wrote the note in the Dáil chamber and that it was not a conditional request or a demand, describing it as a "reference".
He said that he was not sure if the Taoiseach read the note because it was intercepted on the Government benches and given directly to a journalist.
After the furore over the note, Minister Donohoe said "the last thing" he would consider when appointing someone to a State board "is how they look".
He said the only thing that he looked at when it came to reappointing anyone was how they had performed while on that State board.
Minister Donohoe said Mr Lowry also approached him briefly about the reappointment and he heard what he had to say but made no comment about it.
On 30 September last year, the Government agreed new arrangements for filling vacancies arising on State boards.
Under the new arrangements all appointments to vacancies on State boards must be advertised openly on the State boards portal, www.stateboards.ie.
One of the exceptions to the rule is that "in the case of proposed reappointments by ministers, where board members have already demonstrated their capacity to perform effectively as members of State Boards".