Independent TD Michael Lowry has said he did not mean to be sexist in a note he wrote to the Taoiseach asking him to re-appoint a woman to the board of the National Transport Authority.
He told RTÉ's News At One that his former PR adviser Valerie O'Reilly was highly capable and very efficient, and that she should be considered for re-appointment on those conditions.
The Tipperary TD said sending notes would not be uncommon or unusual and that it happened in the Dáil all the time.
According to the TD, he gave references every day of the week and he claimed "we do that in politics".
In relation to his comments about Ms O'Reilly being "bright, intelligent and not bad looking either", Mr Lowry said that it was not meant to be sexist, and that it was a light-hearted, unnecessary comment.
He said that he had no regrets over the note, which was published in the Sunday Independent.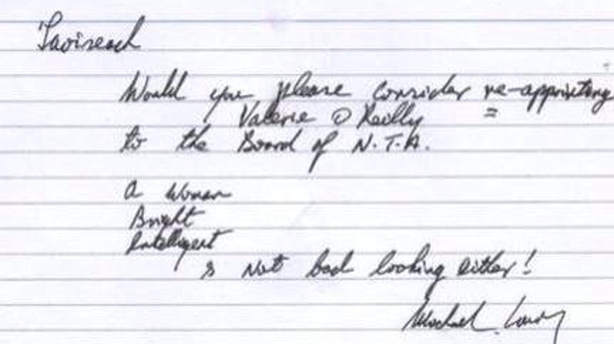 Minister for Transport, Tourism and Sport Paschal Donohoe said "the last thing" he would consider when appointing someone to a State board "is how they look".
He said the only thing that he looked at when it came to reappointing anyone was how they had performed while on that State board.
Mr Donohoe said Mr Lowry also approached him briefly about the reappointment and he heard what he had to say but made no comment about it.
The minister said: "The last thing I would be considering in relation to the appointment of a man or a woman is how they look.
"What matters is the competence of the person, their experience and the commitment that they have.
"They are the only considerations I would ever use or dream of using," Mr Donohoe added.
A Labour Party spokesman said: "The issue here is the inappropriate language and tone used by the deputy in the note.
"I have no idea how the media got hold of the note, but that is, to say the least, a side issue."
Mr Lowry said that the note came about when, sometime last week, Ms O'Reilly asked him to convey a message to the Government that she was willing to remain on as a board member.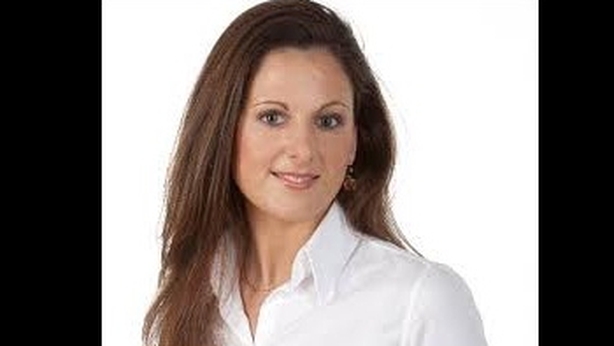 He said that her application was in process and after she made the request of him, he made his own inquiries as to how she had performed as a member of the board and that he was told that she was an excellent board member.
Mr Lowry said that he wrote the note in the Dáil chamber and that it was not a conditional request or a demand, describing it as a "reference".
He said that he was contacted on Saturday morning by a journalist from the Sunday Independent, telling him that he had this note and that the Taoiseach had left it behind in the chamber.
Mr Lowry said that he was told by the journalist that the note was picked up and given to him by a Labour member of the Government.
He said that he was not sure whether the Taoiseach had read the note because it was intercepted on the Government benches and given directly to a journalist. 
"On the looks, that was a light-hearted, unnecessary comment that I made.
"I've never had a situation where a woman took exception to a compliment on her appearance; on her nice dress, or a nice pair of shoes or hairstyle.
"Are you telling me that a politician is not allowed to make a compliment? It wasn't meant to be a sexist comment," he said.
"Her capabilities are well proven, her CV speaks for itself, her contribution to the board speaks for itself.
"And I've already said it was a light-hearted comment and it was an unnecessary comment," Mr Lowry added.