WikiLeaks founder Julian Assange has welcomed moves by Swedish prosecutors to question him at the Ecuadorian embassy in London, but is "irritated" it has taken so long.
The Australian is wanted for questioning over sex allegations by two women in Sweden - which he denies - but fears being extradited to the United States over secret documents published by the whistleblowing organisation.
He has been living inside the embassy in London for almost three years while legal moves continued in Sweden to clear his name.
Today's announcement could signal a breakthrough in the deadlocked case.
Mr Assange arrived at the embassy in June 2012 and was later granted political asylum by Ecuador's government.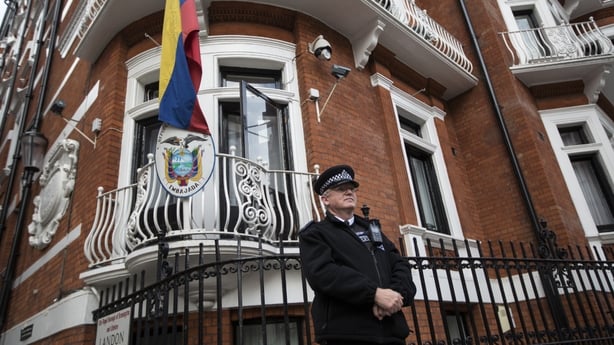 The Swedish prosecutors are also asking to carry out a DNA test.
Mr Assange has previously offered to be interviewed inside the embassy building but the Swedish authorities have so far refused.
The Ecuadorian government has also been pressing for prosecutors to travel to London in a bid to end the impasse.
A Swedish prosecutor explained the development by saying that potential charges against Mr Assange would expire under the statute of limitations in August.
"My view has always been that to perform an interview with him at the Ecuadorian embassy in London would lower the quality of the interview, and that he would need to be present in Sweden in any case should there be a trial in the future," lead prosecutor Marianne Ny said in a statement.
"Now that time is of the essence, I have viewed it therefore necessary to accept such deficiencies in the investigation and likewise take the risk that the interview does not move the case forward."
Kristinn Hrafnsson, WikiLeaks's official representative, said he was surprised by the development, given that Mr Assange has been offering for years to be interviewed inside the embassy.
He said: "I assume this is because it is extremely likely that Julian will win a case in the Supreme Court in Sweden, determining that the arrest warrant be dropped.
"The court has recently announced it will hear the case, and it is quite obvious it will rule in Julian's favour."
Mr Hrafnsson said the Swedish prosecutor had "done nothing" to move the case forward for years.
Per Samuelson, Mr Assange's lawyer, said the WikiLeaks founder welcomed the development, but was irritated it had taken so long.
He said: "This is what we have been asking for. We are happy and we see it as evidence that we were right all the time, and the prosecutor was in the wrong.
"I am convinced the prosecutor has been ordered to reopen the investigation. I have spoken to Julian and he welcomes this because he wants to clear his name.
"But he is also irritated because he believes this should have been done earlier."
Mr Samuelson said there would be formalities to sort out before any interview could be held, which might take "some time" to complete.