US President Barack Obama said there was "nothing new" in Benjamin Netanyahu's controversial speech to Congress, insisting the Israeli Prime Minister did not offer a better alternative to negotiations.
Netanyahu "did not offer any viable alternative," Obama said speaking from the Oval Office.
"We don't yet have a deal. But if we are successful, this will be the best deal possible with Iran to prevent Iran from having a nuclear weapon."
Mr Netanyahu declared that a deal being negotiated between world powers and Iran would leave Tehran free to develop nuclear weapons.
In an address to the US Congress, Mr Netanyahu branded Iran a global threat.
"That deal will not prevent Iran from developing nuclear weapons," he said.
The comments place him in stark opposition to US President Barack Obama's policy of containing Iranian ambitions through a diplomatic accord.
"It would all but guarantee that Iran gets those weapons, lots of them," Mr Netanyahu said.
"Because Iran's nuclear programme would be left largely intact, Iran's breakout time would be very short."
Around 50 Democratic members stayed away from the event, but many more politicians from both sides of the aisle did attend, and Mr Netanyahu was welcomed with a standing ovation.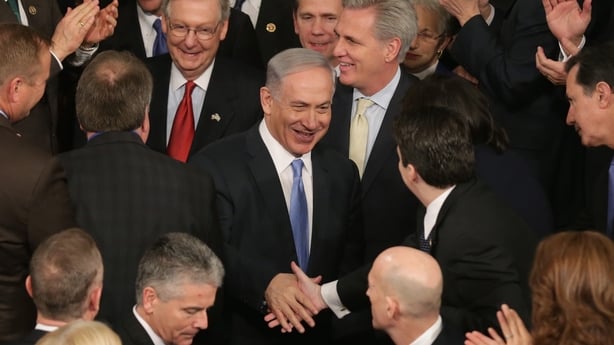 "I know that my speech has been the subject of much controversy. I deeply regret that some perceive my being here as political," he said.
"That was never my intention. You want to thank you, Democrats and Republicans, for your common support for Israel year after year, decade after decade."
"We appreciate all that President Obama has done for Israel," he insisted, citing the close security cooperation between the countries.
But, despite his warm opening words, his speech built to a thorough denunciation of the proposed accord, citing Iranian leaders' threats to "annihilate" Israel and "aggression" against their Middle East neighbours.
"So you see, my friends, this deal has two major concessions.
"One, leaving Iran with a vast nuclear programme.
"Two, lifting the restrictions on that programme in about a decade.
"That's why this deal is so bad. It doesn't block Iran's path to the bomb. It paves Iran's path to the bomb."
Democrats leader Nancy Pelosi said she was "near tears throughout the Prime Minister's speech – saddened by the insult to the intelligence of the United States."
She also said she was "saddened by the condescension toward our knowledge of the threat posed by Iran and our broader commitment to preventing nuclear proliferation."
The invitation to Mr Netanyahu was orchestrated by Republican congressional leaders with the Israeli ambassador without advance word to the White House, a breach of protocol that infuriated the Obama administration and the president's fellow Democrats.
EU foreign policy chief Federica Mogherini warned against "spreading fears" about a deal being negotiated with Iran over its nuclear activities.
"Spreading fears is not helpful at this stage," Ms Mogherini told reporters in Geneva in comments that appeared directed at Mr Netanyahu.
World powers are nearing a 31 March deadline to strike a political framework for a deal to prevent Tehran from developing a nuclear bomb.
US Secretary of State John Kerry has been holding talks with his Iranian counterpart Mohammad Javad Zarif on the deal since yesterday in the Swiss lakeside town of Montreux.