US President Barack Obama and Benjamin Netanyahu have clashed over Iran's nuclear diplomacy on the eve of the Israeli prime minister's hotly disputed address to Congress.
The two leaders professed their commitment to a strong partnership with each other but hammered home their differences on Iran's nuclear ambitions in clashing messages.
Mr Netanyahu outlined his views in a speech to pro-Israeli supporters, while Mr Obama gave an interview to Reuters.
Tomorrow, Mr Netanyahu will detail his objections to ongoing talks between Iran and world powers that he says will inevitably allow Tehran to become a nuclear-armed state.             
Mr Netanyahu opened his high-profile visit to Washington today with a stark warning to the Obama administration that the deal being negotiated with Tehran could threaten Israel's survival.
He said he had a "moral obligation" to sound the alarm about the dangers.
He insisted he meant no disrespect to Mr Obama, with whom he has a history of testy encounters, and appreciated US military and diplomatic support for Israel.
Just hours after Mr Netanyahu's speech to AIPAC, the largest US pro-Israel lobby, Mr Obama told Reuters that Iran should commit to a verifiable freeze of at least ten years on its most sensitive nuclear activity for a landmark atomic deal to be reached.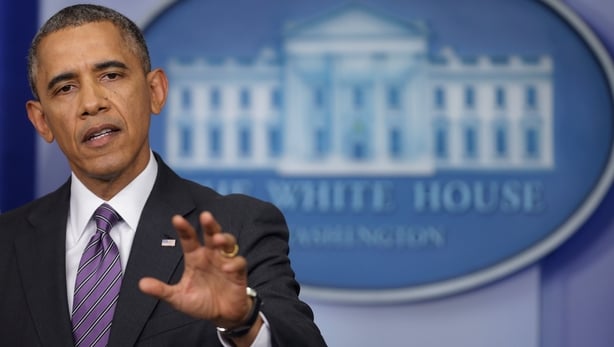 However, with negotiators facing an end-of-March deadline for a framework accord, he said the odds were still against sealing a final agreement.
The Reuters interview gave Mr Obama a chance to try to pre-emptively blunt the impact of Mr Netanyahu's address to Congress, which will be closely watched.
Previewing his coming appearance on Capitol Hill, Mr Netanyahu told a cheering audience at the annual conference of the American Israel Public Affairs Committee (AIPAC): "As prime minister of Israel, I have a moral obligation to speak up in the face of these dangers while there's still time to avert them."
At the same time, Mr Netanyahu said the relationship between his country and the United States was "stronger than ever" and not in crisis.
Mr Obama also sought to lower the temperature by describing Mr Netanyahu's planned speech to Congress as a distraction that would not be "permanently destructive" to US-Israeli ties and said the rift was not personal.
Mr Obama refused to meet Mr Netanyahu during the visit, on the grounds that doing so could be seen as interference on the cusp of Israel's elections on 17 March, when the prime minister is seeking re-election against a tough centre-left challenger.
The invitation to Mr Netanyahu was orchestrated by Republican congressional leaders with the Israeli ambassador without advance word to the White House, a breach of protocol that infuriated the Obama administration and the president's fellow Democrats.
The partisan nature of this dispute has turned it into the worst rift in decades between the United States and Israel, which normally navigates carefully between Republicans and Democrats in Washington.
Mr Netanyahu wants Iran to be completely barred from enriching uranium, which puts him at odds with Mr Obama's view that a deal should allow Tehran to engage in limited enrichment for peaceful purposes but under close international inspection.
Mr Obama said a final deal must create a one-year "breakout period" for Iran, which means it would take at least a year for Tehran to get a nuclear weapon if it decides to develop one, thereby giving time for military action to prevent it.
Mr Netanyahu has said such a deal would allow Iran to become a "threshold" nuclear weapons state, that it would inevitably cheat on any agreement and that the lifting of nuclear restrictions in as little of ten years would be an untenable risk to Israel.
He has hinted at the prospect for Israeli military strikes on Iranian nuclear facilities as a last resort, though he made no such threat in his AIPAC speech today.