Tens of thousands of Russians have marched through central Moscow carrying banners declaring "I am not afraid" and chanting "Russia without Putin" in memory of murdered Kremlin critic Boris Nemtsov.
Many held portraits of the opposition politician and former deputy prime minister who was shot dead while walking home from a nearby restaurant on Friday night.
The authorities have suggested the opposition itself may have been behind his shooting in an attempt to make him a martyr and unite the fractured movement.
His supporters have blamed the authorities.
"If we can stop the campaign of hate that's being directed at the opposition, then we have a chance to change Russia. If not, then we face the prospect of mass civil conflict," Gennady Gudkov, an opposition leader, told Reuters.
"The authorities are corrupt and don't allow any threats to them to emerge. Boris was uncomfortable for them."          
His murder has divided opinion in a country where for years after the Soviet Union collapsed many yearned for the stability later brought by former KGB agent Vladimir Putin.
Police said 21,000 people attended the march. The organisers put the numbers at tens of thousands, but attendance appeared smaller than the 50,000 people the opposition had hoped for.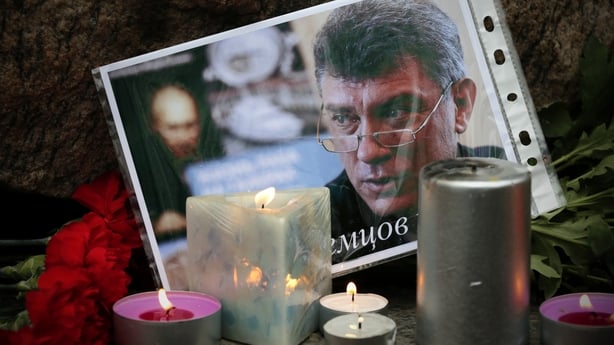 People walked in the rain within view of the Kremlin's red walls and past the spot, now covered in flowers, where Mr Nemtsov was shot dead.
Some carried large banners carrying Mr Nemtsov's face reading" Heroes Never Die", the same slogan used in Ukraine to celebrate more than 100 people killed in protests that overthrew Moscow-leaning President Viktor Yanukovych a year ago.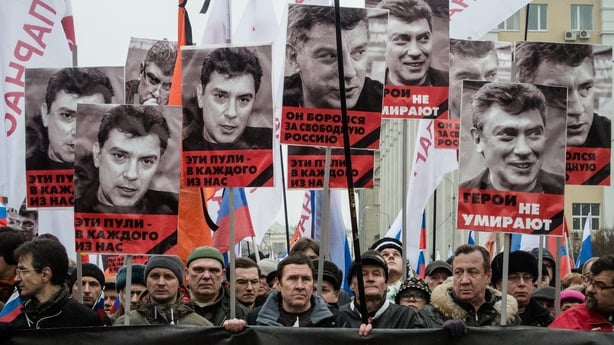 President Putin responds to Nemtsov killing
President Putin has vowed to pursue those who killed Mr Nemtsov, calling the murder a "provocation".
The funeral of the former deputy prime minister is to take place in Moscow on Tuesday.
National investigators who answer to the Russian leader offered a financial award (around $50,000) for information on Mr Nemtsov's death.
They say they are pursuing several lines of inquiry, including the possibility that Mr Nemtsov, a Jew, was killed by radical Islamists or that the opposition killed him to blacken President Putin's name.
Mr Putin's opponents say such suggestions show the cynicism of Russia's leaders as they encourage nationalism, hatred and anti-Western hysteria to rally support for his policies on Ukraine and deflect blame for an economic crisis.
"It is a blow to Russia. If political views are punished this way, then this country simply has no future," Sergei Mitrokhin, an opposition leader, said of Mr Nemtsov's murder.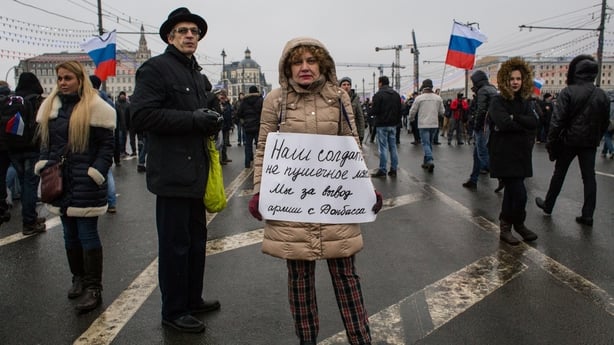 Mr Nemtsov, 55, was one of the leading lights of an opposition struggling to revive its fortunes, three years after mass rallies against Mr Putin that failed to prevent him returning to the presidency after four years as prime minister.             
Mr Putin has now been Russia's dominant leader since 2000, when ailing president Boris Yeltsin chose the former KGB spy as his successor, a role Mr Nemtsov had once been destined to play.
Even many of President Putin's opponents have little doubt that he will win another six years in power at the next election, due in 2018, despite a financial crisis aggravated by Western economic sanctions over the Ukraine crisis and a fall in oil prices.
Many opposition leaders have been jailed on what they say are trumped-up charges, or have fled the country.
Mr Nemtsov had hoped, however, to start the opposition's revival with a march in Marino on the outskirts of Moscow today to protest against Mr Putin's economic policies and what the opposition sees as Russia's involvement in the separatist war in east Ukraine.
The Kremlin denies any role in the fighting.             
Announcing a new plan after Mr Nemtsov's death, Leonid Volkov, one of the organisers, said: "The march in the Marino district which we had planned - a positive march with flags and balloons- does not fit this tragic moment and the magnitude of Nemtsov's persona, as well as the magnitude of the red line we have now crossed and which we have not yet recognised."