A speaker at the UK's first demonstration by the controversial anti-Islam group Pegida estimated 300 people turned out to support the cause.
A larger counter-demonstration in Newcastle attracted more than 1,000 people with a strong police presence keeping the two groups apart in the city centre.
Scuffling among far right extremists caused a brief interruption to the Pegida rally in the Bigg Market and the PA system was temporarily put out of action, a steward said.
But there was no outbreak of serious violence and the Pegida organisers had insisted before the event that it would be peaceful, that they were not racist and that the far right were not welcome.
International TV crews including staff from Australia and Japan filmed the rallies which were kept apart by lines of officers in fluorescent jackets.
Paul Weston, leader of the Liberty GB political party, spoke at the Pegida rally, telling supporters that Muslims would be in the majority in Britain in decades to come and that they will "take over".
"That is exactly what they will do if we quietly do nothing," he told the crowd. "We have to fight back."
Afterwards, he estimated there were 300 people at the rally.
"For a first meeting I think that is OK," he said. "It is bigger than the first meetings they had in Dresden."
He felt sure Pegida could attract support in a way the English Defence League had not.
Pegida - whose German acronym means Patriotic Europeans against the Islamisation of the West - peaked last month in Dresden when 25,000 people attended a rally, but its popularity faded following a scandal among its leaders.
George Galloway, Respect MP for Bradford West, spoke at the Newcastle Unites counter demo.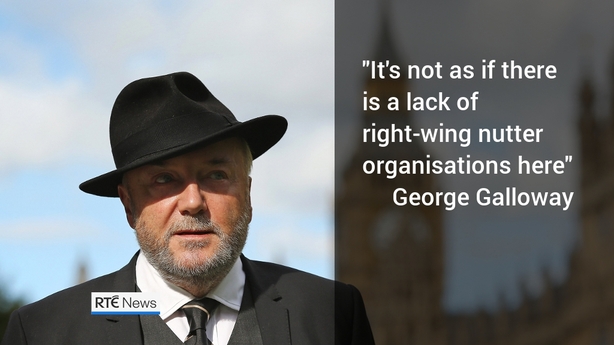 Beforehand, he said: "All right-thinking people in Britain condemn the idea of a German Nazi group coming to the north east of England trying to stir up trouble.
"The vast majority of British people respect that and the people who are on here on the counter-demonstration are representing millions.
"We have enough problems in Britain without Germans coming over here and causing more. We have problems in Britain without racism and Islamophobia being further stoked."
Mr Galloway, who travelled to the North East in his Mercedes, said he was not anti-German.
"I love Germans, I'm driving a German car, but this is one German import we don't want."
Dr Jacqui Rodgers, a university lecturer, was on the counter demo which attracted a cross-section of people of different faiths.
She said: "I think it is really important for us to unite as a community and make it very clear to organisations that are trying to get a foothold in the UK that we will not tolerate their attitude and we won't accept their racist and fascist policies."
But Pegida rally organiser Donna Trainor said: "Islam is not a race, it is a religion. (The term) racist shouldn't be on the table.
"Pegida raises awareness. We want the Government to take notice and take Jihadis and Muslim extremists off the street."
Before the events Northumbria Police insisted it would be business as usual for the city, which was also hosting fans from Newcastle United and Aston Villa for a Premier League match.