Russia and pro-Moscow rebels in Ukraine remain far from meeting the terms of a tattered ceasefire deal, US Secretary of State John Kerry said today.
"To date, neither Russia nor the forces it is supporting have come close to complying with their commitments," Mr Kerry said in a statement to lawmakers.
He was speaking on the second day of intense congressional hearings.
He also renewed warnings that "if failure continues, there will be further consequences - consequences that would place added strains on Russia's weakened economy."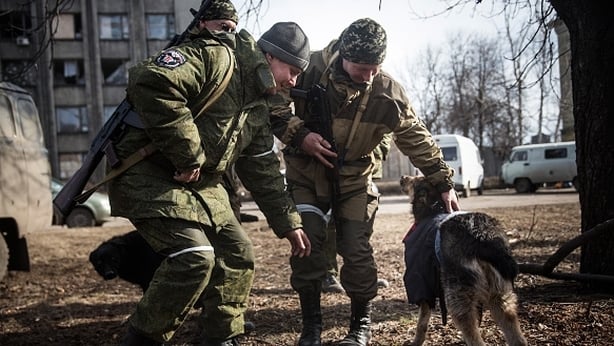 Russian backed rebels make fun of a stray dog dressed in a Ukrainian police uniform 
In recent days, the US administration has lashed out at Russian President Vladimir Putin and his ministers, accusing them of openly lying to the international community.
Asked if she believed President Putin's assertions that he wanted peace in Ukraine, National Security Advisor Susan Rice retorted: "How dumb do I look?"
"No. In all seriousness, no. One cannot accept Vladimir Putin at his word because his actions have belied his words repeatedly, particularly in the context of Ukraine," Ms Rice told PBS television.
Highlighting the sanctions which have already had a damaging effect on the Russian economy, Ms Rice said that "how much he cares is a bigger question. I think he has to care."
"Will that, in the short term, cause him to - to take the steps that we think are critical for him to take? 
"That's a question to be answered. But this will come at a mounting and painful cost to the Russian economy and to Russian interests, particularly if he continues down this path."
For the first time since the European-brokered truce came into force on 15 February, no deaths were reported in Ukraine's war zone by either side for the past 24 hours.
But there was still no confirmation, from the Organization for Security and Cooperation in Europe of a pull-back of heavy weapons from the front line - the other key plank of the truce.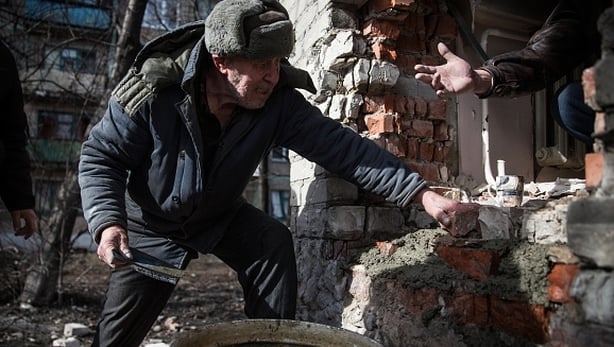 Men use bricks and mortar to repair a hole blown in the side of a bank during heavy fighting in Debaltseve
Meanwhile, Ukraine's military has said none of its troops had been killed at the front in the last 24 hours and only one had been wounded, with a spokesman describing it as the first day with no fatalities in "at least several weeks".
A ceasefire came into effect on 15 February but last week saw heavy fighting with separatist rebels advancing to seize a major town in one of the biggest battles of the war. 
However, the ceasefire now appears to be holding as pro-Russian separatists pull artillery back from the front.