US Secretary of State John Kerry has said the US and its allies were not prepared to play games with Russia and were discussing additional sanctions against Moscow over its role in eastern Ukraine.
"Russia has engaged in an absolutely brazen and cynical process over these last days," Mr Kerry said as he began a meeting with his British counterpart Philip Hammond.
"We are talking about additional sanctions, about additional efforts, and I'm confident over the next days people will make it clear that we are not going to play this game ... and be part of this kind of extraordinarily craven behaviour", Mr Kerry added.
It comes as thousands of Russians marched in Moscow carrying banners and signs disavowing the protests at Kiev's Independence Square.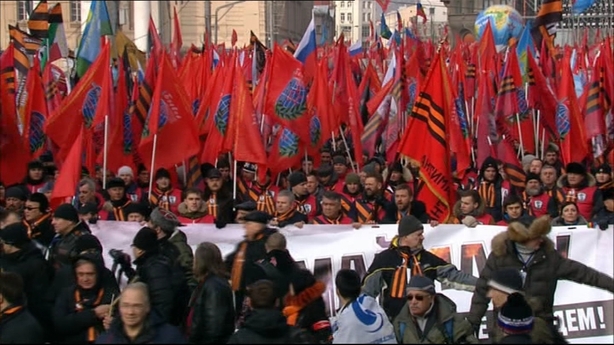 Yesterday thousands of people in Ukraine marked the anniversary of the ousting of Russian-backed president Victor Yanukovych that created a rift between Ukraine and the West and Russia.
Organisers said 20,000 participated in the march in Moscow, which comes on the year anniversary of the deaths of more than 100 Ukrainian protesters on the streets of Kiev during the uprising. 
Since the uprising more than 5,600 people have been killed in fighting, Russia annexed the Crimean peninsula from Ukraine, and relations between the West and Russia have fallen to Cold War-era lows.                  
German Chancellor and Pope discuss Ukraine crisis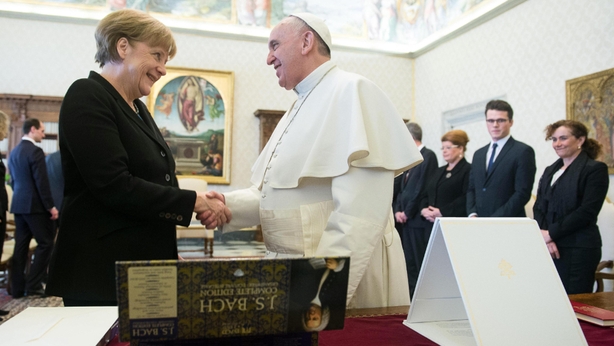 Meanwhile, German Chancellor Angela Merkel on a visit to the Vatican met with Pope Francis and discussed efforts to end the bloody conflict in Ukraine.
Ms Merkel, who played a key role in negotiating the latest ceasefire, had a private audience with the pope where the two underlined their "commitment to reaching a peaceful solution to the conflict in Ukraine", a Vatican statement said.
The Pontiff and the German Chancellor also discussed poverty, women's rights, health and the environment – topics that will be on the agenda at the G7 summit Germany will host in June, the statement added.
The daughter of a Protestant minister, Ms Merkel recently expressed how her Christian faith had an "important" place in her life.
She arrived in Rome on Friday with a 15-member delegation and paid a surprise visit to the Sistine Chapel and the Vatican Museum, a Vatican source said.
This was the third meeting between Ms Merkel and the Argentine-born pope who had met twice before in 2013.