Graham Dwyer's wife has said she recognised a spade, found near the location where Elaine O'Hara's remains were found in September 2013, as being the spade from the garden of their family home in Foxrock.
Mr Dwyer, 42, has pleaded not guilty to murdering Ms O'Hara at Killakee Mountain in Rathfarnham on 22 August 2012.
Gemma Dwyer said she noticed in the summer of 2013 that the spade was missing for the entire summer of that year.
She said after her husband was arrested in September 2013, she noticed there was a different spade in the garden.
She said she thought it had been left behind by gardaí who had searched the house and garden.
Mrs Dwyer said she recognised the spade found on Killakee Mountain as being the spade from their house as it had stickers on it and splatters of orangey red paint.
Fences and garden sheds in their garden had been painted and the paint got everywhere, she added.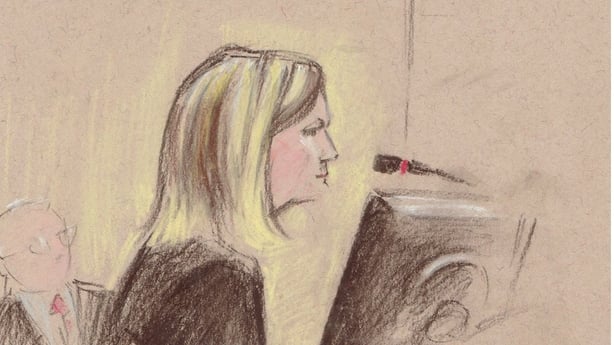 Graham Dwyer admitted knowing Elaine O'Hara in letter
Mrs Dwyer also agreed that she received a letter from her husband in February last year in which Mr Dwyer told her not to believe gardaí.
It said: "They actually have no evidence except my name and someone else's phone number in that awful girl's diary.
"I do know her, yes, and was helping her. And I wasn't totally honest with you.
"There is another man, someone who likes Real Madrid and wears pink underwear, who is involved in this. I believe this girl committed suicide and this man disposed of some embarrassing items on her behalf.
"She tried to kill herself several times. Why do you think none of her family are pushing this? I saved her life once."
Mr Dwyer said she had just been released from a mental hospital and there would be evidence she had bought eight prescription drugs.
He should have gone to the police when she went missing, he added.
He said he could have known where she might be, but he said he did not.
Mrs Dwyer said she had no specific recollection of 22 August 2012.
Mrs Dwyer said Mr Dwyer was fantastic with computers.
They would use the same laptop at home, she explained, but she had a separate log-on set up by Mr Dwyer and would not have had any cause to look at her husband's profile on the computer.
She gave evidence about the cars he had owned and said she was only aware of him having one phone and mobile phone number.
Mrs Dwyer said she first met her husband in the mid 1990s when they were both studying architecture at DIT Bolton Street.
She was asked the names and dates of birth of their two children and wrote them on a piece of paper which was shown to the court and jury.
Mrs Dwyer was asked about the 13 September 2013 - the day Ms O'Hara's remains were found.
She said that was both her birthday and Mr Dwyer's birthday.
She said they went out for dinner in a restaurant on September 13 2013 and they celebrated and got the Luas home.
She said she had no recollection whatsoever of seeing the rucksack found in the Vartry Reservoir before.
She said she also did not recognise photographs of a number of knives shown to her but was able to say they had not come from her kitchen.
She said her husband had a tattoo on his left shoulder, that is was about the size of the palm of her hand and was a symbol from the Book of Kells.
He had had this since he was a student, the court was told.
She said she did not know anything about the hunting knife that had been ordered on the internet on 17 August 2012.
She also said she did not know anything about any reason why her husband might have ordered it.
She added that she would send Christmas cards and birthday cards to Mr Dwyer's sister Mandy.
She said she had been using the wrong address - Oak Lawn, Clerihan, Co Tipperary and she became aware post was being misdirected.
Cross-examined by lawyers for Mr Dwyer, Mrs Dwyer agreed that she when she first spoke to gardaí she told them the spade found at Killakee was the same type of spade as they had had in their home.
However, she said she subsequently noticed the paint on it.
A representative of Ames True Templar, a company which manufactures spades, said the spade found in the Dwyer home in Foxrock after it had been searched in September 2013 had a stamp showing the head had been manufactured in February 2013, and it would have taken a further few months before the spade would have been available for sale.
Niall Nugent said the spade found on Killakee Mountain would have been manufactured sometime between 1998 and 2009.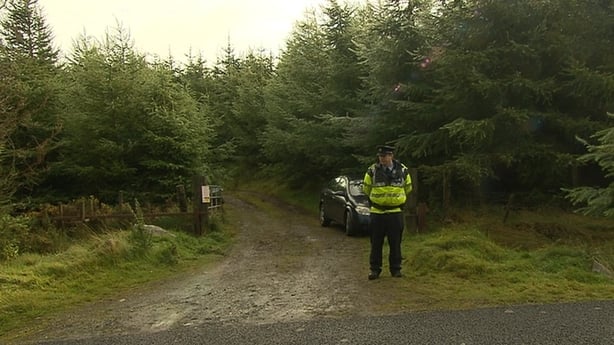 Garda gives evidence of further examination of computers
Earlier, Detective Garda Brid Wallace of the Computer Crime Investigation Unit was cross examined about her examination of computers belonging to Ms O'Hara.
She told the court she found fragments of communications on a HP laptop computer between usernames used by Ms O'Hara and other users of an "alternative" adult website, for those interested in BDSM.
She said there were a number of image files with appeared to be headshots of men associated with this site.
At one stage there had been more than 9,500 views of Ms O'Hara's profile on this website.
Det Gda Wallace also found a number of documents that appeared to be diary entries from November 2010.
In a letter to "dear diary" on 12 November 2010, Ms O'Hara said she is feeling so sad and is really lonely but she says she cannot tell people as they will say it is her fault because she had not gone out and made friends.
She said in this entry that the urge to cut was very great and she was mad that it was still there.
There were communications between profiles associated with Ms O'Hara on the website and profiles associated with various men.
In some there are references to meeting. In one, Ms O'Hara tells a particular user name that she wants to be his total property online for training for use and abuse.
The court also heard almost 3,500 internet searches were recovered, including a search for the phrase "I want to die".
Det Gda Wallace said she had also conducted further analysis on Ms O'Hara's Apple Macbook over the last few days in response to questions from Mr Dwyer's lawyers last week.
She said she was able to reconstruct some of the searches on a website which showed images of dead bodies.
She said there were searches on 11 and 12 July 2012 for terms such as "hanging" "woman hanging" "stabbed 48 times" and "stabbing".
Det Gda Wallace said she also looked at the fact that a large amount of documents - more than 100,000 files - on the Apple computer had a last accessed date of 18 August 2012.
She said she believed this was because they had been accessed by an automated programme like an anti-virus programme.
She said there were also internet searches on the evening of 18 August 2012 for a drop down wall-mounted table and for terms like 'furniture', 'Ikea' and 'Woodies'.