Water charge protesters have forced the abandonment of a meeting of the city council in Cork.
Around 20 protesters pushed their way past security personnel and into the council chamber not long after the meeting began.
They were cheered by a further 50 protesters in the public gallery.
One of the protesters made a speech from the floor of the council chamber calling for support for anti water charge demonstrators who have been jailed in Dublin.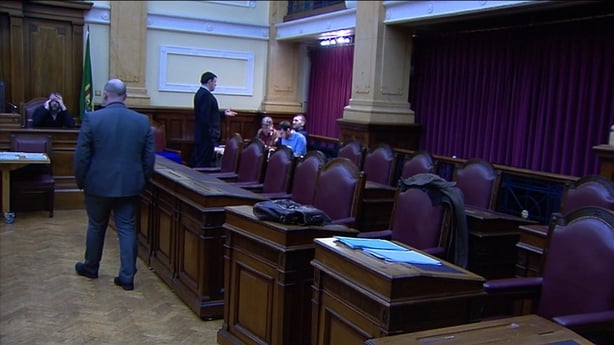 The Lord Mayor of the Council, Mary Shields who was chairing proceedings at the time said she is very disappointed by what happened.
She said the council had a huge agenda to cover, doing the business that they were elected by the people to do and other people came in and took over the chamber.
The Fianna Fáil councillor, who was chairing this evening's meeting, said there was no option but to suspend the meeting.
Three people were jailed for 28 days and two others were given sentences of 56 days each last week.
They were sent to prison for breaching an order restraining them from coming within a 20-metre exclusion zone surrounding installation works.
Protests have been taking place over the past few days over the jail sentences handed down to the water charge protesters.
Cork city council was considering when to take the motion on the jailed water protesters in Dublin, when the protesters came into the meeting.
It is not the first time that water charges protesters have forced the suspension of a council meeting in Cork.
A number have been suspended or disrupted in the past year.
The meeting has been adjourned until a later date.
Elsewhere, Fine Gael TD Ray Butler has said his family were left distressed after an anti-austerity protest was staged outside his home last night.
The Meath West TD who lives in Trim said his children were traumatised when around 20 people carrying a banner demonstrated at his home.
Mr Butler was not there at the time as he was attending a constituency meeting.