Graham Dwyer sent a birthday card to his son last year in which he said everything was going well and he was sure of an acquittal as there was a mountain of evidence that it was a suicide, the Central Criminal Court has been told.
Sennan McShea and his mother Emer McShea gave evidence at Mr Dwyer's trial for the murder of childcare worker, Elaine O'Hara.
Mr Dwyer has pleaded not guilty.
Warning: This report contains some graphic details
Ms McShea told the court she had a relationship with Mr Dwyer in the early 1990s.
She said she was in college at the time. She gave birth to their son, Sennan, in 1992.
She told the court she had had a discussion with Mr Dwyer about fantasies during their relationship.
She agreed Mr Dwyer had told her that his fantasy involved stabbing a woman while having sex with her.
She agreed that after that he began to bring a kitchen knife into their shared bedroom and would pretend to stab her during sex. She said he did not actually stab her.
She said she was shown a variety of photographs and images from the CCTV footage taken at Belarmine Plaza and was able to identify Mr Dwyer.
Ms McShea also told the court she arrived home in November 2014 and found a letter addressed to her son.
She recognised the writing as being Mr Dwyer's. She rang her son and he told her to open it.
The portion of the card read to court said: "Everything going well here. All forensics clear and we are sure of an acquittal now we have a mountain of evidence that it was a suicide."
She said she gave the card to Detective Sergeant Peter Woods.
Mr McShea gave evidence that he had begun smoking in 2006 when he was aged 14.
He agreed that when his grandmother told his father, Mr Dwyer hit the roof and gave him lectures on the dangers of smoking and was very upset about it.
He also gave evidence that he met his father in Ballyshannon in Donegal in July 2012.
He said his father texted him to tell him he was working in Letterkenny.
He said his father collected him at his home in Ballyshannon and they went to Bundoran together, he told the court.
He said he had also identified his father in the CCTV footage from Belarmine plaza in Stepaside.
Court hears computer had files on how to kill people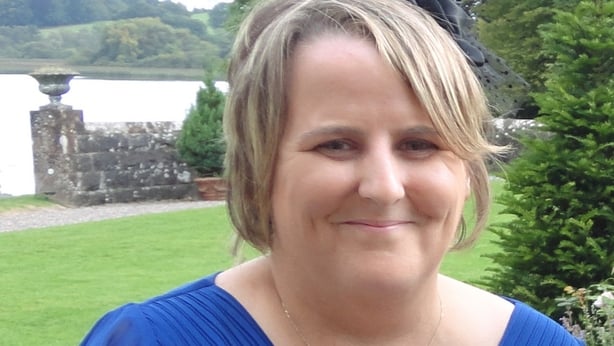 The trial earlier heard that documents identifying how to pick a target and kill people were found on Ms O'Hara's computer.
Detective Garda Brid Wallace of the Computer Crime Investigation Unit gave further evidence about material she found when she examined Ms O'Hara's Apple Macbook.
The court heard she examined a folder called "Downloads" on the computer.
The court heard this would be the default folder for material downloaded from the internet or from emails.
A sub folder in this folder was called "Read this" and contained three files.
These files were last accessed on 18 August 2012.
One was called 'Murder Inc, The Book' by an author called Jack the Rippa.
This identified a number of different ways of killing people, the court heard.
Det Gda Wallace agreed that it identified methods for picking a target and various ways to kill that person.
Another document was a book called '21 techniques of silent killing' which had four chapters including chapters called 'The spike' and 'The knife'.
The third document was called 'Hidden Secret Weapons' and gave an account of various weapons.
Det Gda Wallace said a lot of the files on the computer were last accessed on 18 August 2012.
Other documents included a collection of photographs put together by Ms O'Hara for her counsellor.
There was also an image of a long-haired, bearded man.
The court heard that a document about helping children with dyslexia was last modified on 29 November 2011.
The name recorded of the person who modified it was 'adwejchert, the court heard.
Detective Wallace told the court she also found evidence of internet chats in late 2010 using Yahoo Messenger.
The court was told Ms O'Hara was using the profile 'Bound' on these chats and the email address bound4u.slave7@gmail.com
The court heard evidence of chats with three different profiles in which sexual and bondage activities were discussed.
A chat with one profile with a man who called himself 'Master William' discussed meeting at Dundrum Shopping Centre.
Detective Garda Wallace said she also discovered text messages or excerpts from text messages with a person called William with two different telephone numbers.
She said she also found traces of chats between Ms O'Hara and a number of other profiles.
Detective Garda Wallace also gave evidence that there was a search in Google on this computer for "prostitute asesineda stabbed 48 times".
And she said there was evidence of emails from a website called selling extreme restraints.
These included responses to Ms O'Hara for password requests.
They also included confirmation of orders which appeared to be for sexually related paraphernalia that she had ordered and had delivered to her previous address in Blackrock, Co Dublin.
Det Gda Wallace also told the court she had examined another laptop found in Ms O'Hara's apartment.
She found images from Google maps on this computer.
The images showed areas in the Dublin Mountains - among them Cruagh and Killakee Woods, as well as images of the Reservoir in Roundwood where items belonging to her were found in 2013.
But Garda Wallace said there were no date or time stamps on these images.
Trial hears of emails
The trial heard evidence of an email found on an old computer which had belonged to Ms O'Hara, in which the sender said they were willing to carry out what they had promised, regardless of the consequences.
The court heard this message was sent by an email address linked to a profile called architect72 on an adult website that Ms O'Hara had been a member of.
It was sent to an email address linked to Ms O'Hara.
Det Garda Wallace was giving evidence of her search of a Dell Inspiron computer sold by Ms O'Hara in 2010 and last accessed by her in March of that year.
Det Garda Wallace said she found references to user profiles linked to the website.
One called submissive391 dated back to 2006.
She said the submissive profile viewed another profile called architect 77 four times in 2007.
Det Sgt Wallace agreed that Ms O'Hara's profile also had communication with another profile; architect72.
Prosecuting counsel Sean Guerin said the court would hear evidence in due course that architect72 had the email address fetishboy@gmail.com, which was traced to an email being used by Ms O'Hara, submissive391@gmail.com.
One email found on the computer was read to the court sent by fetishboy@gmail.com dated 19 September 2008.
It read: "I hope you are keeping ok. Assumed you are trying to get better and trying to stay away from what we do together.
"I completely understand. You should know I am always thinking of you and hoping you are safe and not suffering too much on the inside.
"Anytime you want I will gladly carry out what I promised I would do, regardless of the consequences. You can call me from a phone box - even if it's months away or years. I am always waiting.
"Get in touch any time for a chat or for the simple harmless things you like to do. Take care x sir."
Det Garda Wallace said there were traces of two other messages relating to the same email address.
There were also references to gdwyer@gmail.com on this computer.
Det Garda Wallace said there was a search in Google on this computer for Graham Dwyer, architect and Wejchert.
Det Garda Wallace also told the court said she found a search query for a buck special 119 knife on Ms O'Hara's Apple laptop on the morning of 11 July 2012.
Other evidence of browsing included websites which involved stabbing, death, suicide and mutilation.
Under cross-examination, Det Garda Wallace agreed a number of graphic and explicit pictures of women who were hanging or had been stabbed were saved to a folder on the Apple computer called Dead files.
Most of the images appeared to have been downloaded on 11 or 12 July 2012 and last accessed on 18 August 2012.
Some of the explicit images were displayed on the screens in the jury box and to barristers and the judge but they were not displayed on the big screens in court.
The court also heard brief evidence from Graham Dwyer's younger brother, Brendan Dwyer.
He told the court he had been on a camping trip with Graham Dwyer, another brother and their father on Blind Strand in Cork in September 2013.
He said this was their third consecutive trip and they had been to the same place in 2012 as well.
Evidence in the trial will resume on Wednesday.
The jury has been told they will not be required until then as the court will be dealing with some legal issues.