Former Fianna Fáil minister Pat Carey says he wishes he had the courage to come out as a gay man during his political career.
The 67-year-old said he was concerned that the party was not putting enough energy into its campaign to support same-sex marriage in the forthcoming referendum.
Mr Carey, who represented Dublin North West, said he wished he had had Leo Varadkar's courage and come out as a gay man during his political career.
Speaking on RTÉ's Today with Sean O'Rourke, Mr Carey said he did not have the confidence to speak about it publicly before but that people who were close to him had known since 2011.
The Kerry native said he was sorry he had not spoken about it before.
Speaking on the referendum, Mr Carey said: "I'd be concerned that a lot of the 'soft' support that inevitably moves away when any referendum campaign gets under way, might be eroded very, very quickly unless there is a fairly proactive approach taken by Fianna Fáil and the other parties as well."
After hearing the Minister for Health speaking about being gay in a recent radio interview, Mr Carey said: "I said to myself that if I got an opportunity that maybe my perspective might be helpful of other people my age.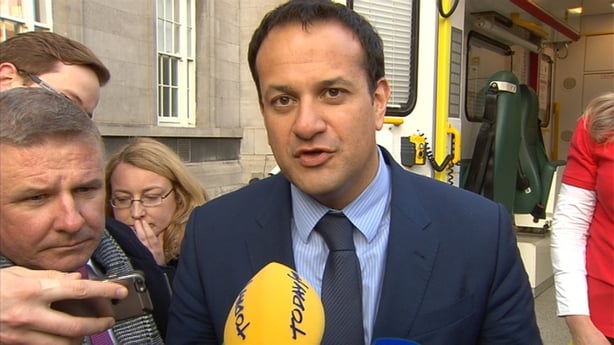 "I'd say there are a lot of men and women of my generation who had the same difficulty that I had in trying to come to terms in how to articulate your gender issues. It was coincidental that it happened at this time, rather than earlier."
Mr Carey said he has been a relationship for the past number of years, and was pleased, that after living alone for almost 35 years, to have someone who was prepared to put up with his "idiosyncrasies", and to have someone to talk to and care about.
He said that when the "car crash" (of the 2011 election) happened, he then had time to reflect on things and tell his immediate family, friends and work colleagues.
Mr Carey said he had stayed out of public comment deliberately, but that if his experience helped others or gave another perspective to the referendum campaign, then he would lend whatever authority he had to it.
He agreed that it would have been "unthinkable" a few years ago to have a Fianna Fáil minister going to a public function with a same-sex partner.
"The civil partnership legislation was a watershed moment for Irish society and there has been a transformational change in Irish society in the meantime. I think we are a more gentle and tolerant society. I hope we can build on that.
"I think that ratifying the marriage equality legislation referendum will help along that road.
"I frankly don't thing the sky's going to fall in. It didn't fall in when Maire Geoghegan-Quinn brought in the decriminalisation of homosexuality; the sky hasn't fallen in with the Civil Partnership Bill and I have no doubt that the sky won't fall in when equal marriage becomes law."