Minister for Health Leo Varadkar has told RTÉ Radio that he was gay during an interview this morning.
He said he decided to speak about his sexuality, because as a minister, he would be campaigning for the Government's referendum in support of same-sex marriage.
The minister was speaking to Miriam O'Callaghan on Sunday With Miriam on RTÉ Radio 1.
Ministerr Varadkar said "I'm a very private person and I still am. I keep my private life to myself and that's going to continue.
"I always think that friends and family are off-bounds. I went into politics, they didn't.
"But, I am a gay man - it's not a secret - but not something that everyone would necessarily know, but it isn't something I've spoken publicly about before."
The Dublin West TD, who is celebrating his 36th birthday today, said he was not in a relationship.
Mr Varadkar said that looking back he always knew he was gay, but it was only in the last year or two that he had come to accept it.
The minister said he had put his career and politics first, and he had only given time to his personal life in the last couple of years.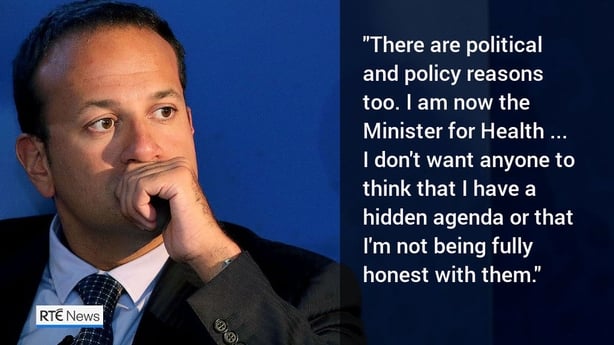 Mr Varadkar said his decision to speak publicly about it now was because he felt comfortable to talk about it and also for political and policy reasons.
He said: "There are decisions coming up that are not entirely my own but I will be involved in them.
"I just want people to know that whatever decisions are made on any issue, I'll make them according to what I believe is in the public interest and my own conscience.
"I won't be allowing my own background or my own sexual orientation to dictate the decisions that I make.
"I just kind of want to be honest with people. I don't want anyone to think that I have a hidden agenda."
@campaignforleo @MiriamOCal v powerful interview. V proud of Leo. Glad I'm not the only gay in the village -:)

— Jerry Buttimer TD (@jerrybuttimer) January 18, 2015
He is the first minister to publicly make such an announcement and the second member of Fine Gael after Jerry Buttimer, who said he was gay in 2012.
The minister gave a wide-ranging interview on his childhood and career, saying he wanted to be out of politics by the time he is 51.
He also spoke about growing up in Dublin as the son of an Indian doctor and a nurse, who met in the UK, before moving to Ireland in the 1970s.
Mr Varadkar said he had a passion for politics from a young age and was a "bit of a swat in school, to be honest".
Minister for Foreign Affairs said Charlie Flanagan said he had "huge respect" for his Cabinet colleague after the interview.
He said he wished him "all the very best for future happiness in a busy life".
Enda: "Have you ever been to Panti Bar?" Leo "No". E: "There you go Varadkar, I'm ahead of you already!" @campaignforleo coming out to Enda

— Colm Ó Mongáin (@colmomongain) January 18, 2015
Opposition parties have commended Mr Varadkar's openness, saying his role in Government would be defined solely by his ministerial performance.
Speaking on RTÉ's The Week in Politics, Fianna Fáil's Timmy Dooley said: "I think he will get the respect of people for doing that.
"It doesn't take away from the fact that he has to get on with his day job and he has got to deal with the issues there."
Sinn Féin's Mary Lou McDonald said: "Leo is Leo. He has a lot of work to do and it certainly won't change, in the political sphere, anyone's perception of him, I don't believe."
The Gay and Lesbian Equality Network has said it "saluted the courage" of Mr Varadkar.
"His courage will inspire many others who would like to be open about who they are," said GLEN Chairperson Kieran Rose.
"Whether you are a Cabinet minister or a young gay person doing your Leaving Certificate, it takes courage to talk openly about who you are.
"Minister Varadkar talking openly about being gay will be a very important source of support for LGBT people and for their parents and families."