Human error has been blamed for the sinking of the tall ship, the STV Astrid, which went aground off Ireland's south coast near Kinsale in July 2013.
A report by the Marine Casualty Investigation Board found a loss of power from the main engine caused by fresh water contamination of the fuel was the main reason the ship went aground, and subsequently sank.
Thirty people were rescued successfully from the Dutch-registered sailing vessel which had been taking part in a local event as part of 'The Gathering'.
But the report was also found that "a desire for photograph opportunities for the Gathering event" meant that the ship navigated a course within 300 metres of the shore in a force six wind, which was inadequate.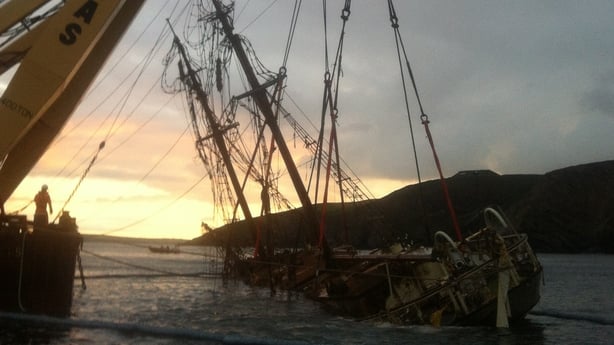 It found that the initial mayday message was sent out in an incorrect format and delayed the rescue by ten minutes, which could have been critical to the final outcome had conditions been more severe.
It also found that the ship should not have been at sea because it was not certified as a passenger ship for either EU or international voyages nor were the crew correctly certified.
The MCIB made four recommendations including that the operators of sail training vessels should ensure that they comply with international conventions and European Union law.
It also said sail training ships entering Irish waters and ports must comply with the regulations, and that ships engaged in promotional activities must ensure that the Master has over-riding authority and that the Master must not compromise good passage planning and safety when involved in such activities.