The European Central Bank is suspending a waiver allowing Greek banks to use government debt as collateral for loans, depriving the banks of a key avenue to much-needed cash.
"Suspension is in line with existing Eurosystem rules, since it is currently not possible to assume a successful conclusion of the programme review," the ECB said in a statement.
The announcement came just hours after new Greek Finance Minister Yanis Varoufakis held his first talks with ECB chief Mario Draghi, as part of the country's push to renegotiate Athens' €240bn EU-IMF bailout.
Ahead of the talks in Frankfurt, Mr Varoufakis told the German weekly Die Zeit that the ECB "should support our banks so that we can stay afloat", acknowledging that Greece was "a bankrupt country".
Greek debt has a junk credit rating and, under ECB rules, should not qualify as collateral for loans.
However, because of Greece's dire economic situation, it had been granted a waiver to that rule as long as Athens was deemed to be in compliance with the terms of its bailout.
Earlier, Greek Prime Minister Alexis Tsipras said he believed it was possible to find a solution to the debt standoff between Athens and the EU.
"I am very optimist(ic) that we will try to do our best in order to find a common, viable and mutually acceptable solution for our common future," Mr Tsipras told a joint press conference with European Parliament President Martin Schulz.
Mr Tsipras earlier met with the leaders of the European Commission, Parliament and the European Council, the body representing EU leaders.
The meetings are part of a charm offensive as Greek ministers continue to lobby EU capitals on their campaign to have Greece's €315bn debt alleviated, but some eurozone governments remain sceptical.
Mr Tsipras got a warm welcome from Commission President Jean-Claude Juncker, walking off hand-in-hand for talks after exchanging a kiss on the cheeks for the cameras.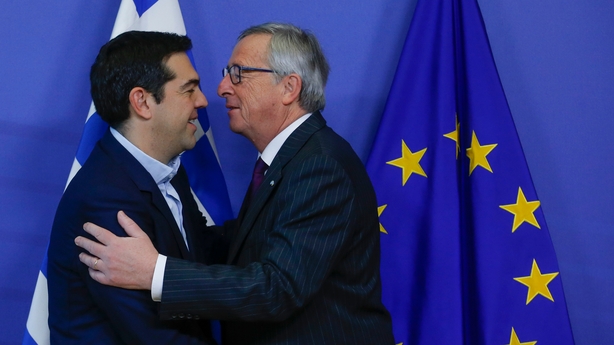 Despite the consternation caused by the new government's confrontational approach last week, there have been more nuanced, if sometimes confusing, signals this week.
Greece wants to swap its loans to the EU and IMF for new bonds whose repayment terms would be governed by how well the country was doing economically.
But it also wants to formally end the bailout at the end of the month, and get bridging loans until the summer; something that the ECB has signalled would not be possible.
But while the talking continues the sense of confrontation has, for the moment, been lifted.