The new Greek Prime Minister Alexis Tsipras has said his country will not default on its debts.
He was addressing the first meeting of the new Greek cabinet after the general election there on Sunday.
Mr Tsipras told his colleagues that the new government would not get into a mutually destructive clash with Greece's creditors but said it would not continue a policy of subjection.
He said his country will seek a "fair, mutually beneficial" deal with its EU creditors on renegotiating its multi-billion bailout and huge debt.
Mr Tsipras told his cabinet's inaugural meeting that among Greece's priorities is "a new renegotiation with its peers in search of a viable, fair, mutually beneficial solution".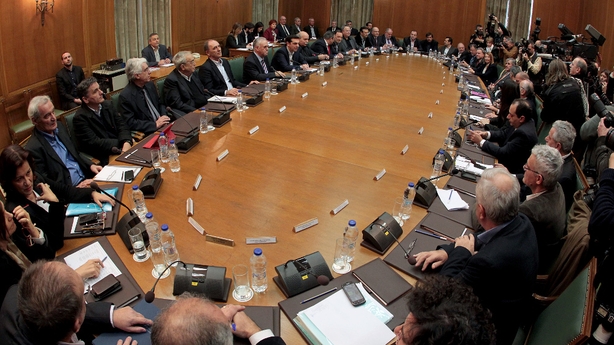 The 40-year-old Syriza party leader said that his administration was one of "national salvation" that was ready to "bleed" to restore his nation's battered dignity.
The new far-left government that stormed to power in Sunday's general elections insists that recession-hit Greece cannot recover without a generous debt reduction and an end to austerity cuts.
Greece's European partners have been quick to pour cold water on the issue of debt forgiveness since Syriza's election win.
Meanwhile, Standard and Poor's put Greece's 'B' credit rating on watch for a possible downgrade.
It warned that some of the policies of the new anti-austerity government were putting Greece on a collision course with its international creditors.
"In our opinion, if the new Greek government fails to agree with official creditors on further financial support, this would further weaken Greece's creditworthiness," said Standard and Poor's in a statement.
The 'B' rating, which already indicates a small assurance of interest and principal payments over the long term, is just two notches above ratings indicating vulnerability of a default.
German Chancellor Angela Merkel's spokesman said on Monday that Greek membership of the eurozone "means ... sticking to its previous commitments".
Taoiseach Enda Kenny told Newstalk FM this morning that a write down of Greece's debt would be difficult to achieve.
The head of eurozone finance ministers, Jeroen Dijsselbloem, is due in Athens on Friday for talks.
European Parliament Chairman Martin Schulz will fly to Greece tomorrow to see Mr Tsipras.
.@jyrkikatainen: EU commissioner says "difficult to see any appetite for a Greek haircut. We don't change our policy because of elections"

— Tony Connelly (@tconnellyRTE) January 28, 2015
The shares of Greece's four main banks lost more than a quarter of their value in trade today on the back of the new government's demand for debt relief.
At the end of a turbulent day on the Athens stock market, Piraeus Bank closed down 29.3%, Alpha Bank shed 26.8%, Eurobank slid 25.9% and National Bank was down 25.5%.
Overall Greek stocks slumped 9.2% to their lowest level since June 2012, closing at 711 points compared with 783 points yesterday.
Yields on Greek 10-year bonds also rose above the symbolic barrier of 10% today.