Householders who fail to register their details with Irish Water by tonight's deadline won't incur any penalties.
Minister for the Environment Alan Kelly said the deadline was "not a line in the sand".
The company said that close to 60% of households had now signed up and would receive their first bills in April.
Mr Kelly confirmed that there were no penalties for non-registration with Irish Water.
The minister said if customers wanted an accurate bill then they should register by tonight, otherwise a default bill of €260 per year would be sent out.
Mr Kelly told RTE's Six One that tonight's deadline was an administrative date for Irish Water to start the billing process.
He said that if customers registered at a later date and were overcharged, a rebate would be available.
The minister said he expected the majority of customers to have registered by tonight or in the near future.
He added that customers who did not register would be charged the standard fee of €260 for a household of two or more adults.
"Today is not a line in the sand. I've already said previously in the last few weeks, it's not a drop dead date," he added.
"What we're really trying to tell people is that if they're not registered by today, there's no guarantee that your bill will be accurate when they come out in April, May or June of this year."
Mr Kelly said householders who wished to receive the €100 Water Conservation Grant would have to register and there would be a separate administrative deadline in relation to that in the summer.
He said penalties would apply further down the line if a customer persisted in not paying.
The minister said after 15 months of non-payment, customers would be charged either €30 or €60 on top of their bills, depending on the level of charge that applied to them.
The company also said there were no penalties for not registering by the midnight deadline.
Speaking on RTÉ's Today with Sean O'Rourke, spokesperson Elizabeth Arnett said if people failed to confirm their details, Irish Water would make an assumption that they were on a standard charge of €260.
Ms Arnett said households who failed to register would be unable to apply to the Department of Social Protection for the €100 grant.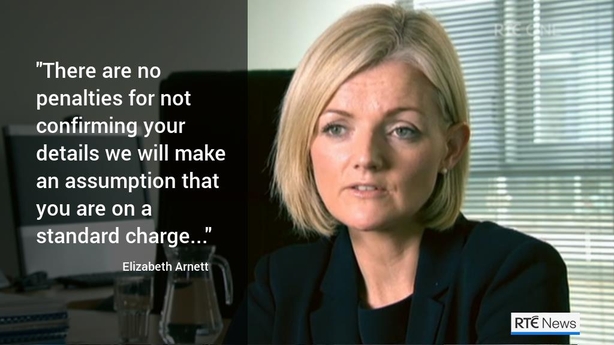 "We will make an assumption that you are on a standard charge, in other words that you have more than two adults in the household and that you have both water and waste water services, and in that respect your bill would be €260.
"You may need to have a lower charge than that, we can't determine that unless you've contacted us and similarly in terms of the €100 conservation grant unless your details have been confirmed with us you won't be able to apply to the Department of Social Protection for that grant."
She also said if people failed to pay their first quarterly bill a sanction would follow.
The Department of Social Protection is currently putting systems in place to administer the €100 grant and full details will be announced when they are finalised.