Irish Water has said that lead in the water supply could be a very expensive problem for householders.
Head of Asset Management Jerry Grant said the company could only rectify lead problems in public service pipes.
He said the problem could end up costing the utility €300 million, but he said it was also a householder problem that could be a very expensive one.
Mr Grant said Irish Water is prioritising estates around the country for lead removal following a sampling programme.
He said a treatment that is used in Britain and the US would be piloted in Limerick with a view to rolling it out nationally.
Irish Water has said it expects to reduce the number of water treatment plants requiring serious upgrading to below 100 this year.
It comes after the Environmental Protection Agency said significant investment is needed to address quality issues in water supply systems serving almost one million people.
The EPA has said 121 water supplies are at risk due to inadequate disinfection and water management systems.
Speaking on RTÉ's Today with Sean O'Rourke, Head of Asset Management Jerry Grant said Irish Water will also make significant improvements to the operations of its plants.
Mr Grant said that, for water supply alone, Irish Water needs €2.3bn to invest between now and 2021, adding the majority of revenue has to come from customers.
The EPA found a small proportion of Ireland's drinking water supplies fail to meet the microbial and the chemical standards required for safe drinking water.
But the EPA said the good compliance rate masks the specific and serious problems occurring in some supplies around Ireland and the significant risk of future problems.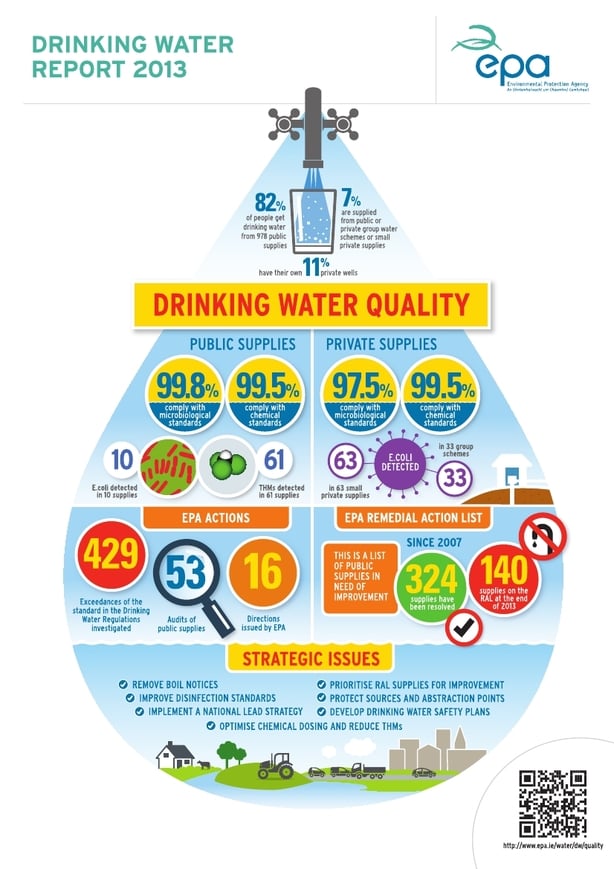 EPA Director of Environmental Enforcement Gerard O'Leary said: "Investment is needed to improve the supplies where people cannot use their water and to reduce the risk of other supplies failing to meet the required quality standards in the future."
Around 20,000 people are currently affected by public water restrictions and boil water notices due to contaminants like Cryptosporidium - which causes gastrointestinal illness - and Trihalomethanes - which scientists say may be linked with cancer.
In a new report on drinking water quality, the agency said that apart from the areas currently affected, 121 other water supplies serving 940,000 people are also at risk.
It lists a range of remedial actions that Irish Water urgently needs to implement all over the country, including improvements to disinfection systems, better management of water treatment, and more investment in robust and resilient infrastructure.
The EPA warns that the World Health Organisation has significantly reduced the safe threshold for lead in water, and that further water restrictions are likely as a result.
"Because of a more stringent lead standard for drinking water (since January 2014) the removal of lead pipes in the network should be a priority area for investment," said David Flynn, Programme Manager of the EPA's Office of Environmental Protection.
Earlier, Minister for Public Expenditure and Reform Brendan Howlin said Irish Water needs to ratchet up the volume of money it invests in the water system.
Speaking at Leinster House, Mr Howlin also said Irish Water was set up so the water system would not have to compete with other areas such as health for exchequer spending.
Irish Water says the issue of lead in water affects approximately "150,000 homes in Ireland and a large number of public buildings built more than 40 years ago, where lead was the normal plumbing material".
A spokesperson said: "This is also an unacceptable situation which requires investment to remove the health risk. This issue is largely a property owner issue as the bulk of the lead is located on the private property side."
Irish Water has said that just under 800,000 customers have so far registered for water charges ahead of the deadline on 2 February.
The company said this amounts to nearly two thirds of the number it expects to bill.
It appealed for anyone who has not done so to register as soon as possible.
Dispute leaves 7,000 NI homes without water
Talks are continuing in Belfast in an effort to resolve the industrial relations dispute that has left over 7,000 homes without water.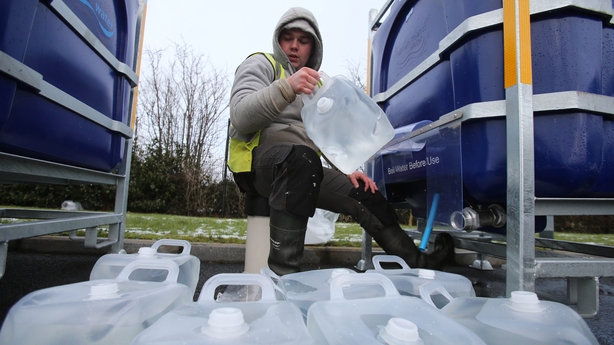 The areas affected by the row between unions and management at Northern Ireland Water are in parts of Fermanagh, Tyrone and Derry.
Public anger is increasing as more stories emerge about schools having to close, householders melting snow to provide water and the Red Cross bringing emergency supplies to homes in rural areas.
However, a work-to-rule by members of three unions will now kick in again so the scale of the problem may increase.
The row is about proposed changes in pensions arrangements for staff at Northern Ireland Water.
Management and union representatives have been around the table again since early afternoon.
There are indications of some narrowing of the gaps in those discussions.
The minister who oversees the utility, Danny Kennedy, has urged the two sides to continue their negotiations and find the necessary compromise.