The longest serving vessel in the naval service, LÉ Aoife, has been decommissioned at a special ceremony in Waterford.
In 35 years of service to the State she travelled in excess of 600,000 nautical miles, an equivalent of circumnavigating the globe 28 times, and her crew has boarded over 4,700 vessels at sea and detained over 440 fishing vessels.
During her service LÉ Aoife was involved in numerous successful operations, primarily involving her role as a fishery protection vessel, but also search and rescue missions, most notably, the recovery in 1985 of the black box from Air India Flight 182 off the south west coast.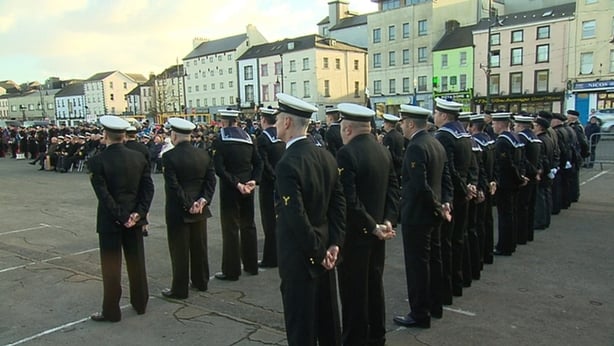 Government Chief Whip and Minister of State at the Department of Defence Paul Kehoe attended today's decommissioning ceremony.
He stated the Department of Defence is continuing to progress the Ships Replacement Programme and that the first of the ships under the current programme, the LÉ Samuel Beckett was handed over at the end of April 2014.
The replacement vessel for LÉ Aoife, the LÉ James Joyce, is scheduled for delivery in the coming months, while last year the department placed an order for a third new Offshore Patrol Vessel, scheduled for delivery in the middle of 2016.
LÉ Aoife is twinned with Waterford and has had a long association with the city and in the past crews of the vessel raised thousands of euro on behalf of the Children's Ward in the University Hospital in Waterford.