President Michael D Higgins has told the Council of Europe in Strasbourg that Irish citizens have made a huge sacrifice for the recovering economy.
Responding to a question from a Turkish assembly member, President Higgins cautioned that Ireland in economic terms is "not a driverless car, it has citizens on board and those citizens paid a very high price".
He said he did not think it was helpful to be using Ireland as some kind of exemplar for others.
The Government had to make a very difficult decision and while things are improving, there is still so much to do, he said.
Emigration is too high, unemployment is too high and inward investment needs to improve, he added.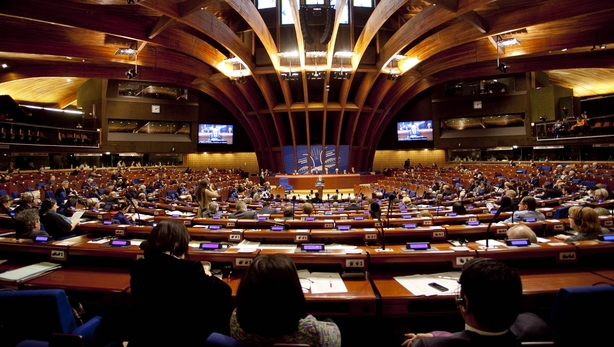 Later, President Higgins said that there was not much value in using Ireland to describe the circumstances of other countries or peoples.
He said that while the Irish economy was doing quite well and all the indicators are positive, you really have to talk about the Irish people and the price that they have paid.
President Higgins said inevitably you have to address the social consequences.
In this sense, he said, he could not "see the utility in people using or rather abusing the Irish case as evidence for a model that may or may not be appropriate for other people".
He was also asked about the recent terrorist attacks in Paris and what his approach would be to the threat posed by increasing radicalism and fundamentalism.
The President said that increasing co-operation is key, but said you also have to look at what has been neglected, such as the conversations that should have taken place with those with fundamentalist faith systems.
This absence of dialogue, he said, had allowed a lacuna into which distortion and those who, like predators, spread fear, have moved.
He said that people have to be unequivocal about co-operation but also have to support those with different faith and political beliefs.
After his address to the Council of Europe, President Higgins and his wife Sabina paid a visit to the European Court of Human Rights before attending a reception for the Irish community living in Strasbourg.
They have since flown home.