The Aer Lingus board is expected to issue a statement this morning confirming it has recommended that shareholders accept a €1.3bn takeover offer from British Airways owner, IAG.
Aer Lingus earlier said it was considering a bid of €2.55 per share for the airline.
It is understood negotiations had been under way yesterday to confirm details of the deal.
Any takeover would have to be approved by the Government and Ryanair before it could proceed.
Transport Minister Paschal Donohoe is today expected to brief Cabinet colleagues on developments.
Aer Lingus has already snubbed two previous takeover offers from IAG.
Minister for Foreign Affairs Charlie Flanagan said that the Government had some concerns and would be briefed by Mr Donohoe at the weekly Cabinet meeting.
The issues of concern relate to connectivity to London and Aer Lingus's strategic role for the economy and the tourism industry.
I understand Aer Lingus will issue statement to stock exchange recommending IAG offer tomorrow morning.

— David Murphy (@davidmurphyRTE) January 26, 2015
Minister for Jobs, Enterprise and Innovation Richard Bruton said the Government would ook at the matter very closely as the issue of connectivity for Ireland as an island nation in terms of investment, exports and competition are important.
In a brief statement to the Stock Exchange this morning, Aer Lingus said it had received an offer of €2.55 per share and that its board was considering the revised proposal.
The bid comprised an all cash offer of €2.50 per share and a cash dividend of 5 cent per share and that it remained conditional on the recommendation of the board and receipt of irrevocable commitments from Ryanair and the Government, its two largest shareholders.
The bid values Aer Lingus at around €1.3bn, with the dividend worth an additional €26m.
If the deal goes ahead at that price the Government, which has a 25% stake in the airline, would receive around €308.6m.
Discussions are said to have taken place over the weekend to decide if the offer by IAG should be accepted.
Ryanair has an almost 30% stake with the rest held by other investors, including staff, some of whom would be in line for windfalls of around €50,000 if they sold their shares.
Mr Donohoe said the Government would give careful consideration to any takeover of Aer Lingus.
The minister said that maintaining employment and looking at how it could grow was of profound importance to how the proposal would be evaluated by Government.
Speaking on RTÉ's Drivetime, he said that it was a matter for the board to make their decision on what it believed was the right decision for the company
The minister said he would reserve his evaluation until he heard from consultants following a decision on whether to accept the bid by the board.
However, he added that international access, including Aer Lingus slots in Heathrow, would be crucial in any evaluation of a bid by the Government.
The main Opposition parties are opposed to a sale.
The SIPTU and IMPACT unions said they were concerned for the security of jobs at the airline.
SIPTU, which represents over 50% of the staff in Aer Lingus, called on the Government to block the sale unless guarantees were secured in relation to the strategic interests of the country and workers' conditions of employment.
SIPTU spokesman Owen Reidy, said: "We believe the Government must act with extreme caution.
"Unless the Government is given clear and tangible guarantees on a number of key issues, the IAG offer must be rejected.
"The key issues include a solid commitment being given that the Heathrow slots will be maintained and the airline's transatlantic routes will continue to be developed.
"Clear commitments must also be given that the company's employment levels at Dublin, Shannon and Cork airports will be maintained."
IMPACT said between 1,000 and 1,200 jobs could be at risk in the event of an IAG takeover.
Spokesman Niall Shanahan said much of Aer Lingus's 3,900 employees were based in north Dublin and the jobs at risk would most likely be ground staff jobs, IT, backroom services and maintenance roles because IAG had very substantial resources for these functions in London and Madrid.
Mr Shanahan also said the connectivity Aer Lingus provides was crucial to the Irish economy and if that was to be "soaked up by IAG", we could be looking at more widespread job losses.
He said there are very serious considerations for the Government in how it manages its 25% stake in the airline.
Selling Aer Lingus to Willie Walsh is not just about money
Since December, the Irish airline has rejected separate bids of €2.40 and €2.30 per share.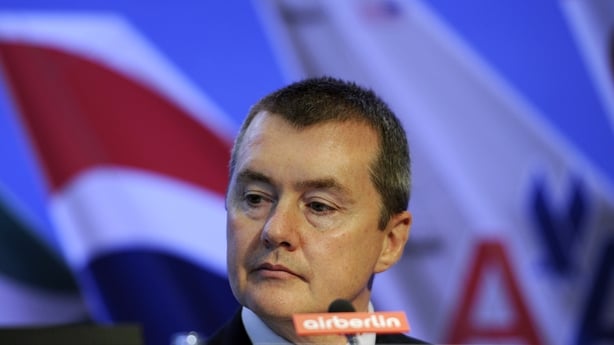 IAG chief executive Willie Walsh was boss of Aer Lingus between 2001 and 2005, before he took the reins at British Airways.
BA and Iberia subsequently merged in 2011 in a tie-up aimed at slashing costs amid a fierce economic downturn that boosted demand for low-cost competitors and sparked steep losses for traditional carriers.
Business and tourist interests in Cork have reacted with concern to the news that Aer Lingus has received a revised takeover offer from IAG.
The Cork Chamber of Commerce said any threat to the Cork/London Heathrow slots could have a devastating impact on existing businesses in the south and for future development in the region.
Chief executive Conor Healy said as Cork had no direct US connectivity, London Heathrow was the region's most important connection point to the world.
Meanwhile, a group of former Aer Lingus and airport workers have protested for a second time at the Dublin home of Mr Donohoe.
They marched to the minister's house in Phibsborough, shouted slogans and made speeches for about 30 minutes before leaving. Gardaí were present.
The protesters are deferred members of the Irish Airlines Superannuation Scheme whose pensions were cut under the recent restructuring of the Aer Lingus and Dublin Airport Authority scheme.