Five people have been killed in the Niger capital during violent riots against the depiction of the Prophet Mohammed on the cover of French satirical weekly Charlie Hebdo, President Mahamadou Issoufou said.
"In Niamey, the tally is five dead, all civilians," said Mr Issoufou.
He added that the toll from protests in Niger's second city of Zinder a day earlier had climbed from four to five dead.
Seven churches have been burned.
It is the second day of protests following the decision by the magazine to show a cartoon of the Prophet Muhammad on its cover.
The cover has angered many Muslims worldwide as depictions of Muhammad are widely considered forbidden in Islam.
Police fired tear gas at a fresh demonstration in Niamey as at least 1,000 youths assembled at the grand mosque.
Some of the youths threw rocks at police while others burned tyres and chanted "Allahu Akbar" ("God is Greatest").
France has told its citizens in the country to stay indoors.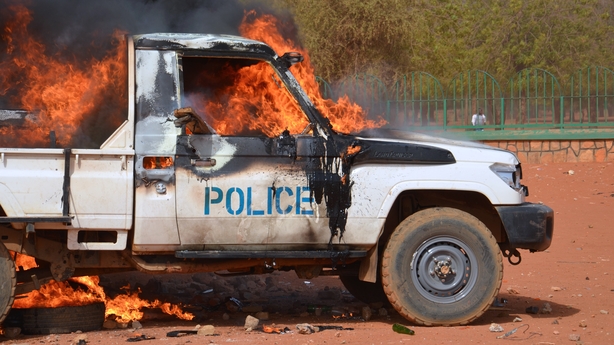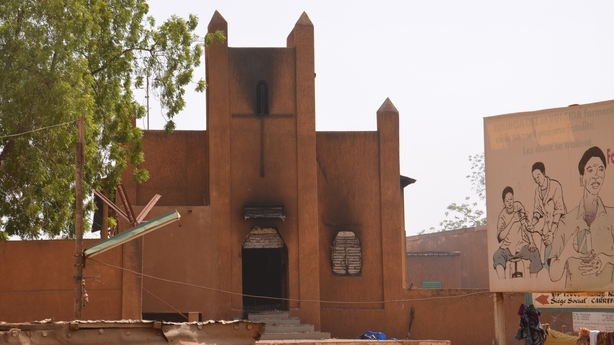 Today's protest came a day after a policeman and three civilians were killed and 45 injured in protests against Charlie Hebdo in Niger's second city of Zinder.
Charlie Hebdo has repeatedly published cartoons of Muhammad over the years and its latest issue, released on Wednesday, features a cartoon of Muhammad on its cover holding a "Je Suis Charlie" (I am Charlie) sign under the headline "All is forgiven".
It came a week after attacks by three terrorists on its offices, a kosher supermarket and a policewoman left 17 people dead in and around Paris over three days.
Minister for Justice Frances Fitzgerald has said she had no objection to the publication coming into Ireland and that is part of a normal democracy.
She said however that people must be sensitive to the views of various communities.
Minister Fitzgerald said you would prefer that it does not cause offence.
She said, but we do believe in freedom of speech which is a part of democracy and poeple should not be governed by threats from extremists.
A spokesperson for EM News Distribution has said he does not know if they will be bring any copies of the magazines to Ireland.
He said they have not got any stock of the survivors edition and no confirmation of any future allocation.
The spokesperson said that they will handle the title if its available but demand in France has meant they have not been able to get copies from the distributors for Charlie Hebdo.
Elsewhere, Chief Executive of the Conveniance Stores and Newsagents Association Vincent Jennings confirmed some members have cancelled their orders.
He said the association had advised shopkeepers that if customers had ordered copies those orders should be fulfilled.
Mr Jennings said they also advised shops there was nothing to be gained by offending people and that if they wish to stock the magazine they should not display it.
The organisation suggested that shopkeepers should hold the magazine behind the counter where customers can ask for it.
He also said he would be suprised if shops put the magazine on display if it gets here at all.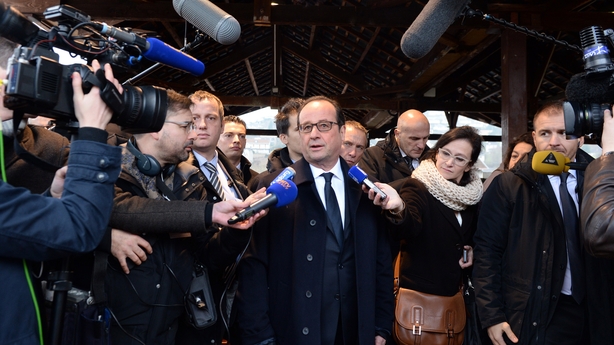 Elsewhere, French President Francois Hollande has stressed that France had "principles, values, notably freedom of expression" in the wake of the violent protests against Charlie Hebdo.
Mr Hollande recalled that "we have supported these countries in their fight against terrorism".
Charlie Hebdo has sold 1.9 million copies of its latest issue, but distribution has been hit by printing problems.
Only 230,000 copies were ready rather than the one million that had been expected to ship this weekend, its distributor MLP said.
The technical problem had been resolved and "distribution will resume normally on Monday", MLP said.
A total of five million copies of the issue will be printed, with deliveries continuing next week.
Prior to the attacks, the magazine sold around 60,000 copies a week.
In Iran, Mardom Emrouz has been banned from publishing the headline "I am Charlie."
The slogan has come to symbolise the fight for freedom of expression.
In Russia, 15,000 people rallied in the North Caucasus region of Ingushetia against Western publications that insult the Prophet Mohammed, authorities said.
The crowd gathered for the officially sanctioned meeting in the regional capital Magas to protest "against cartoons of the prophet, Islamaphobia and insulting the beliefs of Muslims."