The United States and Britain are to establish a new joint group to counter the rise of violent extremism in the wake of the Paris terror attacks.
US President Barack Obama and British Prime Minister David Cameron said they were determined to confront the "poisonous and fanatical ideology" of the extremists wherever it occurred.
Mr Obama said he was confident extremism could be defeated.            
"This phenomenon of violent extremism - the ideology, the networks, the capacity to recruit young people - is widespread.
And it has penetrated communities around the world," he told a joint news conference in Washington.
But he added: "It is one that we're ultimately going to defeat. But we can't just defeat it through weapons."
The president said the US and Britain had tried hard to strike a balance between internet privacy and national security but needed to preserve the capability of tracking extremist groups online.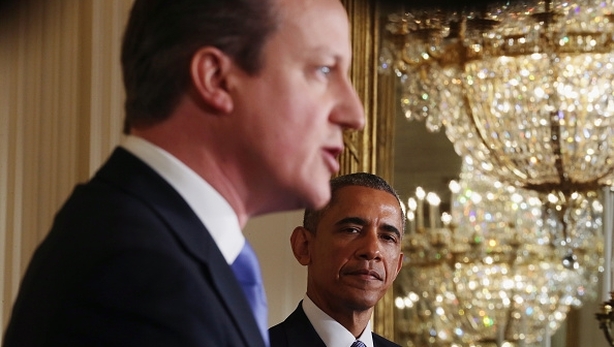 "We're still going to have to find ways to make sure that if an al-Qaeda affiliate is operating in Britain or the United States that we can try to prevent real tragedy," he added.
Mr Cameron said the new UK-US group would look at what more they could do to identify and counter the threat in their own countries while learning from each other's experience.
At the same time, Britain is to step up its support to Iraqi forces fighting Islamic State terrorists with the deployment of additional intelligence and surveillance assets.
"Britain and America both face threats to our national security from people who hate what our countries stand for and are determined to do us harm," Mr Cameron told the press conference.
"In recent weeks, we have seen appalling attacks in Paris, in Peshawar, in Nigeria. The world is sickened by this terrorism.
"So we will not be standing alone in this fight. We know what we are up against. And we know how we will win.
"We face a poisonous and fanatical ideology that wants to pervert one of the world's major religions - Islam - and create conflict, terror and death. With our allies we will confront it wherever it appears.
"But, most important of all, we must also fight this poisonous ideology, starting at home."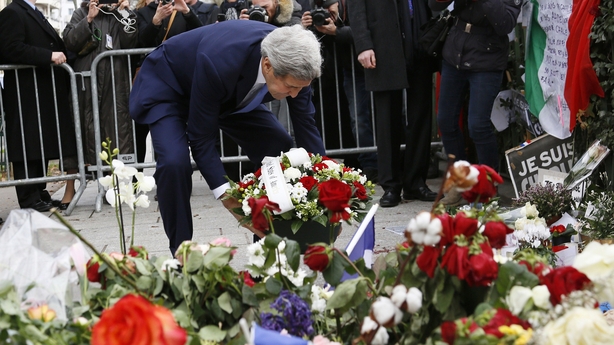 Earlier, US Secretary of State John Kerry met President Francois Hollande in Paris to offer support after last week's attacks. 
The two also laid wreaths outside the Jewish supermarket and Charlie Hebdo offices targeted in the attacks.
Irish newsagent cancels Charlie Hebdo order
In Ireland, one of the newsagents who ordered hundreds of copies of the controversial magazine has said he is pulling out of the sale.
Newsagent Gareth Kearns said he was doing so after reconsidering the sensitivities involved.
Avignon Islamophobic killing
Meanwhile, a Moroccan man was stabbed to death in his own home in southern France in what a Muslim group called a "horrible Islamophobic" attack.
The attacker forced the front door of his neighbour's house in a village near Avignon, before repeatedly stabbing Mohamed El Makouli,  the National Observatory Against Islamophobia said.
Prosecutors confirmed that a man had been charged with murder before being committed to a psychiatric hospital.
Police in France arrested 12 people overnight suspected of helping the Islamist militant gunmen in last week's killings.
An official said the arrests were in connection with suspected "logistical support" for the shootings.
Four killed in Niger's Charlie Hebdo protests
Elsewhere, four people were killed and 45 injured in Niger's second city of Zinder today during protests against Charlie Hebdo's publication of a cartoon showing the Prophet Mohammed.
The French cultural centre and three churches were burned down.
Twenty-two members of the security forces and 23 protesters were also hurt, national radio reported.
In Pakistan, one person was shot and another injured in clashes between anti-Charlie Hebdo protesters and police outside the French consulate in Karachi.
The French Ambassador has written a letter of thanks to the people of Ireland for their support following last week's events.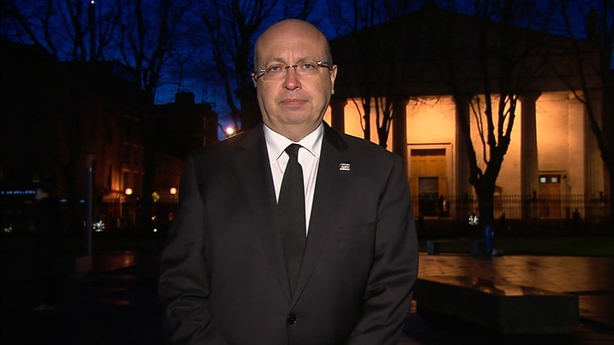 In the letter, Jean-Pierre Thébault said the people of Ireland sent a very clear response to the attacks.