Around 600 households remain without power tonight following adverse weather conditions yesterday and today.
Over 400 of the remaining faults are in Co Donegal.
Earlier, ESB networks said power would be restored to all but 400 customers by tonight.
Speaking on RTÉ's Six One News, Bernadine Moloney, the company's corporate communications manager, said that crews worked in treacherous conditions today, with the worst affected areas being Donegal and Mayo.
Meanwhile, operations have returned to normal at Dublin Airport after high winds caused 38 cancellations and 20 diversions to flights.
The very strong south westerly winds caused problems for planes trying to take off or land. But winds have now eased and flights are landing and taking off without difficulty.
However, the airport is still clearing a backlog of flights caused by the disruption.
Intending passengers are advised to contact their airline.

Elsewhere, an estimated 10,000 eircom fixed-line and broadband customers are without service following stormy conditions last night and today.
The worst affected areas are rural as well as exposed parts of Cork, Galway, Donegal, Sligo, Leitrim, Mayo, Limerick, Kerry and Clare.
Over 1,000 repair technicians are working throughout the country, but some field staff activities were restricted in exposed areas for health and safety reasons due to high winds.
Service was restored to 1,800 customers today.
Customers are asked to log any faults on the "Log a Fault" section of www.eircom.net, or by calling 1901.
Storm swept in to western counties from Atlantic
A storm swept in from the Atlantic last night, bringing torrential rain and winds of up to 150km/h to the west of the country.
A Status Orange warning which was in place overnight was downgraded over the day and is no longer in place.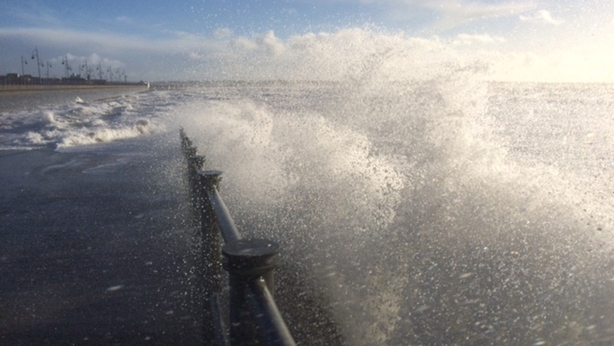 A visualisation of the wind currently over Ireland (from http://t.co/M7F7jfIZ1T) pic.twitter.com/cau3olyvm1

— RTÉ News (@rtenews) January 15, 2015
A man died following a one-vehicle crash on the Hillsborough Road in Lisburn this morning.
PSNI Inspector Stephen Burns said: "The man died following a tree falling on his van.
Police in County Antrim say the Hillsborough Road in Lisburn will remain closed overnight due to concerns that more trees may fall.
In Limerick, a man was taken to hospital after a tree hit a jeep near Anglesborough at about 11pm last night.
A number of schools across the country were closed today as a result of the weather.
Over 50 primary and secondary schools throughout Limerick city and county decided to close their doors.
Fallen trees and flooding is making driving conditions difficult and motorists are advised to take care.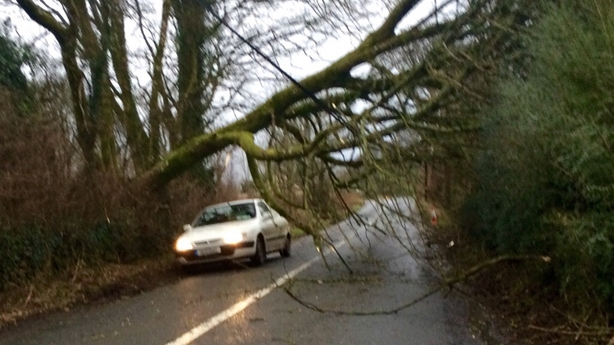 (Picture: Tony O'Brien, DYGM Photography)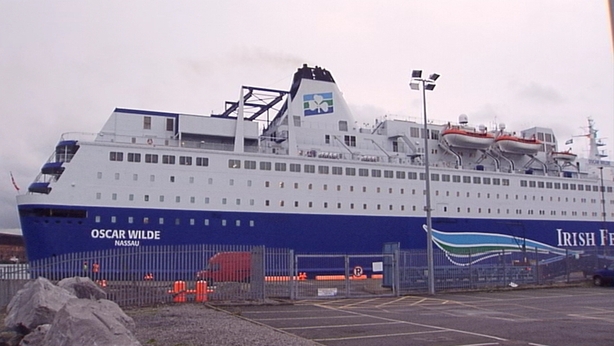 Irish Ferries cancelled early morning and afternoon ferry crossings between Dublin and Holyhead due to the adverse weather conditions.
P&O Ferries suspended all services on its Scottish and southern routes.
All Iarnród Éireann services are operating but a speed restriction on trains for safety reasons will cause delays for passengers.
A junction on the Bandon Road in Cork city was closed this morning after tiles fell from a building there.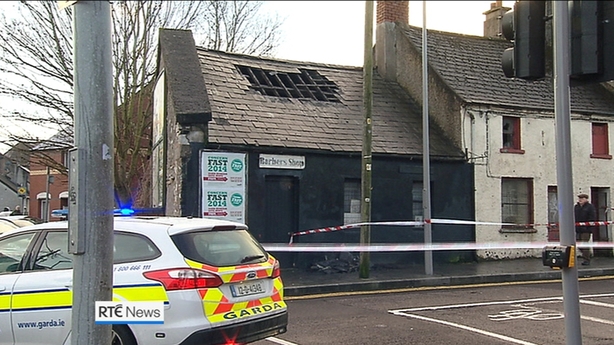 Send your weather pictures to yourphotos@rte.ie or @rtenews