Met Éireann has issued five weather warnings this evening.
The latest alerts came as drivers were advised to take extra care with snow falling in a number of areas around the country.
Two Status Orange warnings - the second most severe - are in place.
A Status Orange snow-ice alert is in place for Connacht, Cavan, Monaghan, Donegal, Clare, Kerry and Limerick.
Wintry, thundery showers of hail, sleet and snow are expected, with snow accumulations of 4-8 cm. The highest amounts will be on high ground in Connacht and west Ulster.
Met Éireann also issued a Status Orange wind warning for counties Wexford, Donegal, Galway, Leitrim, Mayo, Sligo, Clare, Cork, Kerry, Limerick and Waterford.
Forecasters say gusts of 110-130 km/h will develop tomorrow afternoon and continue through the night.
A Status Yellow wind warning is in place for Dublin, Carlow, Kildare, Kilkenny, Laois, Longford, Louth, Wicklow, Offaly, Westmeath, Meath, Cavan, Monaghan, Roscommon and Tipperary with gusts of 90-110 km/h predicted.
A Status Yellow rainfall warning is in place for Connacht, Donegal, Clare, Cork, Kerry and Limerick with totals of 25-35mm expected.
A Status Yellow warning for snow and ice is also in place for Leinster, Cork, Tipperary and Waterford with snow accumulations of up to 4cm forecast in places.
AA Roadwatch says extreme caution is needed and is advising motorists to make sure to allow plenty of extra time to reach their destinations.
It also recommends that drivers use major routes as they are more likely to have been gritted than secondary roads.
It is calling on people to remember that stopping distances are ten times greater in ice and snow.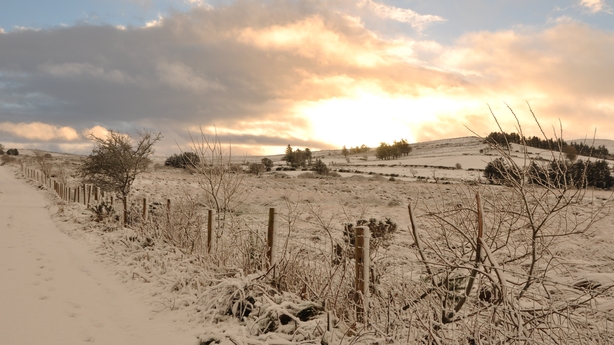 The Sun rising over snowy Glentogher in Inishowen, Co Donegal (Pic: Christina Galbraith)
Gardaí advised motorists to take extreme care on roads in Co Mayo this evening after snow falls left many routes in a dangerous condition.
In Ballina, around 2.5cm of snow has accumulated in some areas and gardaí say roads around Foxford and Bohola are treacherous.
The Westport-Newport road is also affected and caution is advised on secondary roads around Westport too.
Gardaí in Castlebar say most roads have snow on them and routes west of Balla are said to be particularly bad.
In north Mayo, coastal areas around Belmullet have escaped the worst of the snow so far but roads towards Crossmolina, Bangor and Kilalla are problematic.
Further south in Co Galwaysome heavy snow falls caused problems for drivers on the link road between Loughrea and the M6 as well as on a section of the N59 around Maam Cross.
Bus Éireann says there are delays on all its routes in the north-west this evening, with Donegal worst hit, due to snow and icy conditions.
Here's a snapshot of the country's roads today from the pics you sent in. http://t.co/qvBPcgPvrc pic.twitter.com/hqRBSVIlHX

— AA Roadwatch (@aaroadwatch) January 13, 2015
Some school transport services were cancelled on higher ground where roads became impassable.
Spokeswoman Nicola Cooke said the bus firm plans to operate all services in the morning but she warned there may be some disruption in the north-west.
Donegal County Council is warning drivers that routes over high ground are dangerous as snow is lying on the road.
It said gritters are out and will continue to work throughout the day, tonight and tomorrow morning.
Motorists were advised to take particular care at Barnesmore Gap.
Gritters in the Glenshane Pass in Co Derry managed to keep all main roads open.
However, primary schools in Strabane, Co Tyrone and Claudy, Co Derry were forced to close.
Snow also fell in parts of Sligo, Roscommon, Meath, Dublin, Limerick and Leitrim.
Snow on the roads in Meath please drive carefully pic.twitter.com/dtfRsvg5NJ

— An Garda Síochána (@GardaTraffic) January 13, 2015
View some more wintry images here.
Crews working land and airside to keep approach roads apron and runway open in sub zero temperatures @corkairport pic.twitter.com/zBAhwHRkEC

— Cork Airport (@CorkAirport) January 13, 2015