Minister for Health Leo Varadkar has said trolley numbers today are at a seven-year low, comparing like with like.
Speaking on his way into the meeting of the Emergency Department Task Force, he said it was still a chronic problem in seven of around 27 emergency departments.
Mr Varadkar said the problem was about more than extra staff and beds and would need a concerted effort over a number of months.
Liam Doran, General Secretary of the Irish Nurses and Midwives Organisation, has been appointed co-chair of the task force.
He said extra nurses and beds were needed, not high level strategies.
He warned that planned industrial action by nurses could escalate, if the problem was not solved.
Nurses from the INMO and SIPTU held a protest outside Leinster House this afternoon to highlight overcrowding problems at emergency departments.
The demonstration heard that the spectre of people on trolleys had to stop and was unacceptable.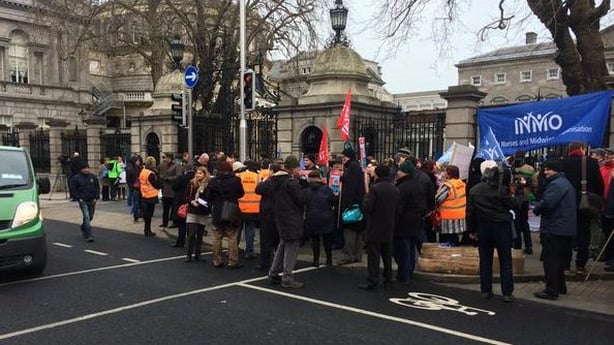 The protest came as the latest figures from the INMO show that there are 359 patients waiting for a bed today.
The hospitals worst affected are Beaumont in Dublin with 35 patients waiting, University Hospital Limerick with 34 and Our Lady of Lourdes in Drogheda with 28.
Meanwhile, INMO members at Naas General Hospital have voted by 97% for a work-to-rule beginning on 4 February.
The action is being taken due to overcrowding at the hospital.
Nurses say that trolley figures in Naas increased by 61% in 2014 compared with 2013.
The vote at Naas follows similar ballots at a number of hospitals around the country.
INMO members at Limerick University Hospital, Ennis, Nenagh and Croom yesterday voted for action on 3 February because of overcrowding.