Al-Qaeda in Yemen has claimed responsibility for the attack on French satirical newspaper Charlie Hebdo.
In a video posted on YouTube, it said brothers Said and Cherif Kouachi "were assigned" to carry out the attack.
Gunmen killed a total of 17 people in three days of violence that began when they opened fire at Charlie Hebdo last week, in revenge for publication of satirical images of the Prophet.
This was the first time that a group officially claimed responsibility for the attack.
"As for the blessed Battle of Paris, we ... claim responsibility for this operation as vengeance for the Messenger of God," said Nasser bin Ali al-Ansi, a leader of the Yemeni branch of al-Qaeda in the recording.
Meanwhile, distributors say that Charlie Hebdo will now print two million extra copies of its latest edition to meet demand, after the magazine sold out in France today.
The three million copies of the French satirical magazine that went on sale this morning have sold out, according to vendors.
The new issue comes one week after eight of the magazine's journalists and cartoonists were shot dead in their offices.
The front cover of today's magazine depicts the Prophet Muhammad holding a placard declaring "I am Charlie", under the headline "All is Forgiven".
One lucky reader gets a copy of #CharlieHebdo after queuing for two hours at Place Madeleine in Paris this morning pic.twitter.com/rHBpYbnA8b

— Tony Connelly (@tconnellyRTE) January 14, 2015
Profits from the issue will go to victims' families.
The issue has already drawn ire from Muslim groups in some countries that oppose depictions of Islam's founder.
The Islamic State group has said publishing the cartoon was an "extremely stupid" act.
Staff at Charlie Hebdo began working on the new edition as early as last Friday, just two days after their colleagues had been gunned down during an editorial meeting in one of the worst terror attacks in decades.
The front cover was drawn by Renald Luzier, who was only spared because he had arrived late for work last Wednesday.
He described his depiction of Muhammad as "nicer than the terrorists' Muhammad".
The French government had supported the magazine's decision to press ahead with the publication of three million copies, many times the normal print run of just 60,000.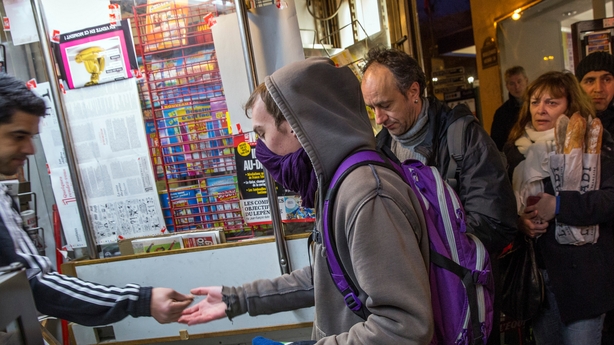 However, the authorities are bracing themselves for a backlash by religious fundamentalists.
The Iranian foreign ministry has condemned the cartoon as "insulting" and "provocative".
In Egypt, the country's highest religious authority has already denounced the cartoon as unjustifiably provocative to the feelings of 1.5bn Muslims worldwide who love and respect the Prophet.
Meanwhile, a leading daily in overwhelmingly Muslim Turkey risked a backlash by printing excerpts from today's Charlie Hebdo edition.
The daily Cumhuriyet, which strongly opposes President Recep Tayyip Erdogan, printed a four-page pull-out containing cartoons and articles translated into Turkish from the French magazine.
Many Muslims consider images of the Prophet, not least ones satirising him, to be blasphemous under Islam and Turkey's Islamic-rooted leaders in the past angrily denounced such cartoons.
Charlie Hebdo had angered Muslims in the past by printing cartoons lampooning the Prophet and Islam.
Meanwhile, the justice ministry in France says that more than 50 cases have been opened for "condoning terrorism" since Paris attacks.
Kerry and Hollande to discuss attacks
US Secretary of State John Kerry will meet French President Francois Hollande on Friday to discuss last week's attacks.
Mr Kerry announced his visit on Monday, a day after a massive rally in Paris condemning the bloodshed that was attended by several world leaders.
However, the US did not send a senior official to the event, which brought more than 1.5 million people onto the streets of Paris.
Meanwhile, French police fear there may have been several people who provided support to both Amedy Coulibaly and the Kouachi brothers, the main perpetrators of last week's attacks.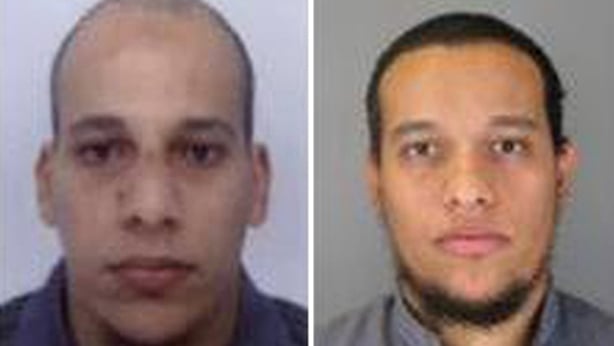 Police suspect that a jogger wounded at the outset of the attacks may have been shot by a fourth member of the cell.
Bullet casings link the weapon to the gun used by Coulibaly at the Jewish supermarket siege, but the victim told police his attacker was of European and not African origin.
French comedian Dieudonne has been arrested today for being an "apologist for terrorism" after writing a Facebook comment suggesting he sympathised with one of the gunmen, a judicial source said.
Dieudonne made his controversial Facebook post after attending Sunday's unity march against extremism.
Meanwhile, in his first reaction to the attacks, Syrian President Bashar al-Assad said Western "shortsightedness" and "support for terrorism" in the revolt against his rule were to blame.
President Assad said he had repeatedly warned Western governments that their support for rebel groups in Syria risked a blow back of violence at home.