Former British prime minister Tony Blair has said the peace process would probably have collapsed without the On The Runs (OTRs) scheme for fugitive IRA members.
His Labour administration sent about 200 letters to republicans assuring them they were not being pursued by the UK authorities following requests from Sinn Féin.
An investigation was launched by British MPs when the prosecution of a man for the murder of four soldiers in a bombing in Hyde Park in 1982 was halted after he received one of the letters in error.
The OTR letters scheme began while Mr Blair was prime minister, and the chairman of the Northern Ireland Affairs Committee has said he is one of the most important witnesses to the inquiry.
Mr Blair this afternoon told MPs on the committee investigating the scheme: "The issue of OTRs was absolutely critical to the peace process and at certain points became fundamental to it.
"If I had been saying we are not dealing with this in any way at all, you can never be certain of these things but I think it is likely that the process would have collapsed."
He said Sinn Féin would have walked away and added the scheme was central to getting the party on board with overhauled policing arrangements.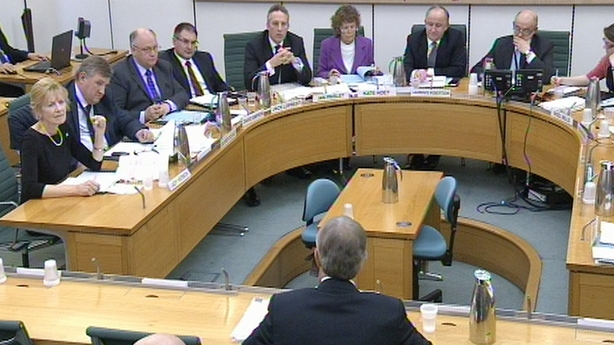 "The purpose on everything we have done was to create peace in Northern Ireland so that there were not more victims of terrorism and more families distressed and losing loved ones as a result of that terrorism," he told the committee in London.
Mr Blair began the peace process scheme in 2000 which saw 95 of the so-called letters of comfort issued by the British government to suspects linked by intelligence to almost 300 murders.
They told people they were not wanted at that time but did not rule out future prosecutions if new evidence became available.
The scheme was drawn up following pressure from Sinn Féin to allow the fugitives, who had they been in prison before 1998 would have been released under the Good Friday Agreement, to return to Northern Ireland.
Mr Blair said: "Without having done that we would not have a Northern Ireland peace process."
The former prime minister has been summoned to be questioned about how his government dealt with paramilitary suspects in crimes committed during the Troubles.
The committee, sitting in Westminster, launched its investigation after John Downey was released last year when a judge halted his prosecution for the Hyde Park bombing.
Household Cavalry Lieutenant Anthony "Denis" Daly, 23, died in the explosion alongside Trooper Simon Tipper, 19, Lance Corporal Jeffrey Young, 19, and 36-year-old Squadron Quartermaster Corporal Roy Bright.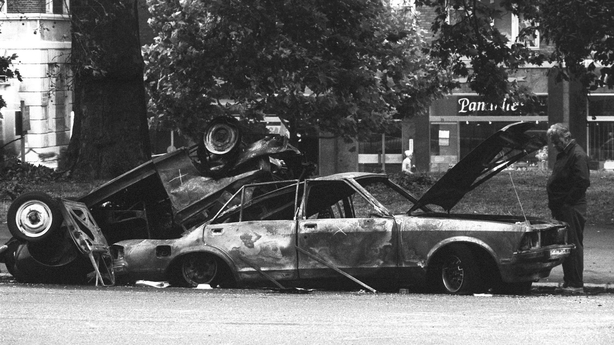 Mr Blair said the scheme evolved over time from a small number of cases.
He said he wanted to establish a proper scheme which dealt with the issue in its entirety but his government was unable to do so.
He added the authorities were able to review those cases of people who may or may not be charged and inform them.
"It was not an amnesty, it was not secret, but it nevertheless dealt with one part of the problem we had to deal with."
He added: "Right from the outset our desire and the focus for OTRs was to bring into place a...scheme that would apply to everybody, the equivalent of the Good Friday Agreement for prisoners, but we were not able to find a way of doing that so we dealt with this by way of an administrative process."
In May 2003, proposals about dealing with OTRs were published as part of a joint declaration by the British and Irish governments. By now the issue was linked with decommissioning of IRA weapons.
In 2006, an attempt to introduce legislation was shelved in the face of widespread opposition.
The proposed law would have seen people accused of paramilitary crimes before 1998 appearing before a special tribunal and then being freed on licence.
Former Northern Ireland secretary Peter Hain told the Commons the legislation was necessary, and that the issue was not going to go away.
But Sinn Féin's rejection of it, because it would have also covered the British Army and police and those guilty of collusion in crimes, made it unworkable.
All the other major political parties in Northern Ireland rejected the bill, but for different reasons.
The former prime minister said: "As this developed over time, it would have been better to have called it an administrative scheme openly and to have put a better structure around it."
He said he took full responsibility for it and added that the letter should not have been issued to Mr Downey.
But, on the wider scheme, he said he defended completely the issuing of these letters to people who the authorities had decided were not going to be prosecuted and charged.
"We would have had literally nothing in respect of the (Sinn Féin) demand to deal with the whole of the OTRs issue."
In 2006 the St Andrews Agreement was signed, which paved the way for Sinn Féin accepting policing and joining the powersharing structures at Stormont the following spring.
By late 2006 the letters scheme had gathered pace and Mr Blair said the political situation was on a knife-edge.
The former prime minister said: "We were fighting continually to keep the thing alive."
He added: "I thought for a time during that period we had lost the whole thing, I remember saying I think we just cannot rescue it.
"If we had not managed to find a way to get ourselves over what was a horribly difficult period we would not have got the (ministerial) Executive up in May 2007.
"We almost lost the thing. I understand the anxiety about this, I really do, but you have got to understand what I was trying to achieve. The Northern Ireland peace process was the right thing to do."
Current Northern Ireland Secretary Theresa Villiers has ended the scheme.
The former Labour leader said: "I am not here to criticise her but all I am saying to the people in government now is that you inherited a peace process that worked so be careful with it because it is fragile still."
He said he took responsibility for the structural problems with the scheme which helped bring about the collapse of the Downey prosecution but pointed out that he had been out of office for some time and had never heard of John Downey before the case ended.
He added there were numerous opportunities to correct the mistake more recently.